EU facing 'destiny' at crunch Brussels migration summit
EU leaders yesterday faced deep divisions on migration at a summit in Brussels that embattled German Chancellor Angela Merkel said could decide the fate of the bloc itself.
The meeting came amid warnings that authoritarian and "anti-European" movements would profit from any failure by the 28 leaders to deal with a flare-up of tensions over migrants that has put Merkel's political future in the balance.
The rise of Italy's new populist government and bitter rows over its refusal to take in migrants arriving on rescue boats have revived divisions, although arrivals have dipped sharply since the 2015 refugee crisis.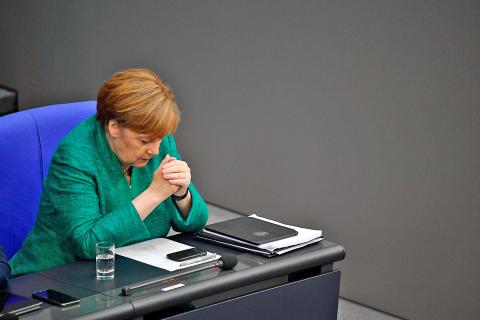 German Chancellor Angela Merkel attends a legislative session at the Bundestag in Berlin yesterday.
Photo: AFP
Italy traveled to the EU gathering emboldened by the announcement that Italian Prime Minister Giuseppe Conte on July 30 is to visit US President Donald Trump, who has hailed Rome's tough stance.
"Europe has many challenges, but migration could end up determining Europe's destiny," Merkel told German lawmakers hours ahead of the summit.
The bloc can decide to "overcome the challenge in a way that people in Africa or elsewhere believe that we are guided by our values," she said.
Or, in a manner where "no one will believe in our value system that has made us so strong," she added.
Merkel, for years Europe's most powerful leader, now risks seeing her fragile coalition collapse if she cannot reach migrant deals with other nations, including Italy's new government of far-right and anti-establishment parties.
After allowing more than 1 million asylum seekers into Germany since 2015, Merkel faces an end-of-the-month deadline from her own minister of the interior to seal pacts that would let Germany turn back asylum seekers already registered in other EU states.
The leaders at the summit hope to approve work on migrant "disembarkation platforms" in nations outside Europe, most likely in Africa, although EU officials have been vague on what form they would take.
In a bone to Merkel, the leaders would also agree to "closely cooperate" on stopping secondary movements of migrants, according to draft summit conclusions, although the language might be weaker than she would have hoped.
A "mini-summit" of 16 leaders in Brussels on Sunday failed to make much headway, but there is no chance of agreement on a plan for mandatory "burden sharing" by moving refugees from front-line Mediterranean states, such as Italy and Greece, to other nations.
The plan is strongly opposed by eastern European nations, particularly the authoritarian governments of Hungary and Poland.
EU President Donald Tusk warned on the eve of the summit that time is running out for leaders to reassure their citizens that they can control migration before populists win the "high-stakes" debate.
"More and more people are starting to believe that only strong-handed authority, anti-European and anti-liberal in spirit, with a tendency towards overt authoritarianism, is capable of stopping the wave of illegal migration," summit host Tusk said in a letter to leaders. "The stakes are very high and time is short."
Comments will be moderated. Keep comments relevant to the article. Remarks containing abusive and obscene language, personal attacks of any kind or promotion will be removed and the user banned. Final decision will be at the discretion of the Taipei Times.