Alliance is 'ironclad,' Mattis tells Seoul
US Secretary of Defense James Mattis yesterday told South Korea that their alliance remained "ironclad," as he sought to reassure key East Asian allies following US President Donald Trump's unilateral suspension of military exercises with Seoul.
Concern has mounted in the region over the stance of the US president, who has lauded North Korean leader Kim Jong-un as a "talented guy" as he seeks to persuade Pyongyang to give up its nuclear weapons, but Mattis told his counterpart in Seoul: "The US commitment to the Republic of Korea remains ironclad," adding that included "maintaining the current US force levels on the Korean Peninsula."
Mattis was flying to Tokyo later yesterday for a day of meetings with senior Japanese officials.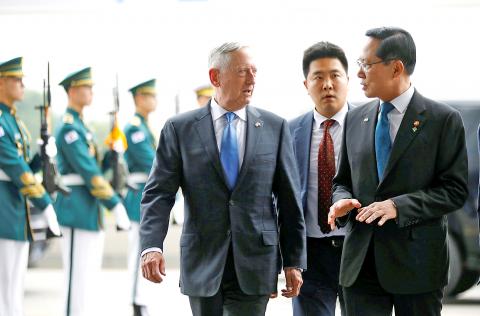 US Secretary of Defense James Mattis, left, walks with South Korean Minister of National Defense Song Young-moo, right, as he inpects an honor guard on his arrival at the Ministry of National Defense in Seoul yesterday.
Photo: Reuters
Both South Korea and Japan have security alliances with the US guaranteed by treaty, but have been thrown off-balance by Trump's quick moves on negotiations with Kim.
Most striking of all, at a news conference after the two men's summit in Singapore earlier this month, Trump announced he would suspend joint military exercises with South Korea — with Seoul indicating that it was not informed beforehand.
US and South Korean forces have trained together for decades and always characterized the drills as defensive in nature, while Pyongyang condemned them as rehearsals for invasion and often responded with provocations of its own.
Trump lamented the exercises' cost and adopted North Korea's description to call them "provocative," adding that at some point "I want to bring our soldiers back home."
In Seoul, Mattis said the suspension of August's large-scale Ulchi Freedom Guardian exercise improved opportunities for diplomatic negotiations, thereby "increasing prospects for a peaceful solution on the peninsula."
The US has publicly maintained its commitment to protect Japan and South Korea — both of which host tens of thousands of US troops — from North Korea's nuclear-armed military, but James Schoff, a former Pentagon Asia specialist now at the Carnegie Asia program, said: "They are increasingly concerned and worried about the reliability of our reassurances."
"There is hypersensitivity now to any decision we make," he added.
Mattis arrived in Seoul from Beijing, where he questioned the militarization of the South China Sea and Chinese President Xi Jinping (習近平) stiffly defended his nation's claim to the disputed region.
"The US maintains an enduring commitment to a peaceful, secure and prosperous, free and open Indo-Pacific [region]," the Pentagon boss said earlier yesterday.
China praised the tone of this week's visit, saying it had achieve positive results and that Chinese Minister of National Defense Wei Fenghe (魏鳳和) would visit Washington this year.
Speaking at a monthly news briefing, Chinese Ministry of National Defense spokesman Wu Qian (吳謙) said the two nations had reached an "important consensus" on mutual trust, further exchanges, cooperation, and managing and controlling risks and challenges.
"The visit achieved positive, constructive outcomes," Wu said.
He added that Wei had accepted an invitation from Mattis to visit the US this year.
Comments will be moderated. Keep comments relevant to the article. Remarks containing abusive and obscene language, personal attacks of any kind or promotion will be removed and the user banned. Final decision will be at the discretion of the Taipei Times.