Brexit law, and May, face crucial parliament vote
A vote in parliament yesterday on the government's plans for Brexit would send a message to the EU and would make negotiations more difficult if lawmakers undermine the official position, British Prime Minister Theresa May told her Cabinet ministers.
"The prime minister said that the votes were important in terms of the message they send to Brussels. She said that anything which undermines the government at home would make the negotiations with the EU more difficult," her spokesman said, reporting the content of a Cabinet meeting earlier in the day.
May faced a knife-edge vote in parliament on her Brexit legislation as the House of Commons was to vote on a raft of amendments produced by the House of Lords, including one that would give parliament an effective veto over Brexit.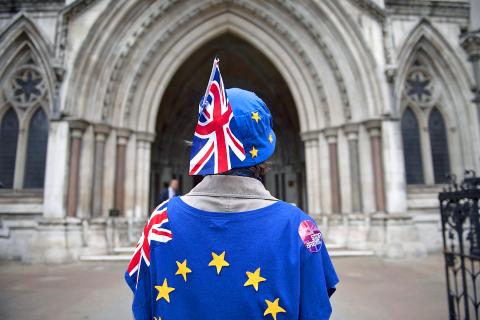 An anti-Brexit campaigner takes part in a protest outside the High Court in London yesterday after opponents launched a legal bid to challenge the legality of Article 50 in an attempt to halt Britain leaving the EU.
Photo: EPA-EFE
Just hours before the vote, the pressure on May cranked up when a pro-EU junior minister, Philip Lee, quit the Ministry of Justice so he could back the veto proposal.
A choice between "bad and worse" options was not giving lawmakers a meaningful vote, Lee said.
Other flashpoints in the parliamentary votes include proposals to keep Britain tightly aligned with the EU's economy.
The EU (Withdrawal) Bill is the draft law that would set the legal framework for Brexit and May is worried about the prospect of a rebellion by pro-EU Conservative lawmakers keen to retain the changes.
Comments will be moderated. Keep comments relevant to the article. Remarks containing abusive and obscene language, personal attacks of any kind or promotion will be removed and the user banned. Final decision will be at the discretion of the Taipei Times.