Trump-Kim meet large on ceremony, short on details
FOLLOW-UP NEEDED: The document signed in Singapore was basically a deal to continue discussions. Trump later said he would suspend US-South Korea war games
US President Donald Trump and North Korean leader Kim Jong-un yesterday concluded an extraordinary nuclear summit with the US president pledging unspecified "security guarantees" to the North and Kim recommitting to the "complete denuclearization of the Korean Peninsula."
Meeting with staged ceremony on Sentosa island, Trump and Kim clasped hands in front of a row of alternating US and North Korean flags, held a one-on-one meeting, additional talks with advisers and a working lunch.
The two leaders expressed optimism throughout roughly five hours of talks, with Trump thanking Kim afterward "for taking the first bold step toward a bright new future for his people."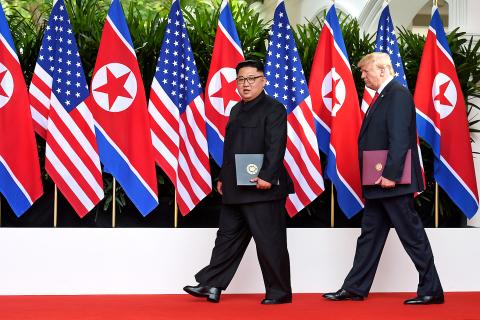 North Korean leader Kim Jong-un, left, and US President Donald Trump walk during their summit at the Capella Hotel on Sentosa island, Singapore, yesterday.
Photo: Reuters
Trump added during a news conference that Kim has before him "an opportunity like no other" to bring his country back into the community of nations if he agrees to give up his nuclear program.
Trump announced that he would be freezing US military "war games" with South Korea while negotiations between the two countries continue. Trump cast the decision as a cost-saving measure, but North Korea has long objected to the drills as a security threat.
Trump acknowledged that the timetable for denuclearization is long, but said, "once you start the process it means it's pretty much over."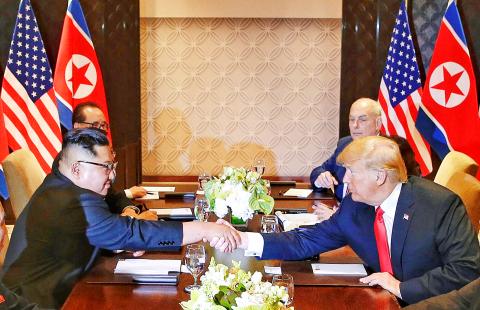 North Korean leader Kim Jong-un, left, and US President Donald Trump shake hands at the Capella resort on Sentosa island in Singapore yesterday as White House chief of staff John Kelly, back right, looks on.
Photo: AP / Kevin Lim / The Straits Times
He acknowledged that US intelligence into the North Korean nuclear stockpile is limited, "probably less there than any other country… But we have enough intelligence to know that what they have is very substantial."
He added Otto Warmbier, the American student once detained in North Korea, "did not die in vain" because his death brought about the nuclear talks.
Trump said Kim accepted his invitation to visit the White House at the "appropriate" time.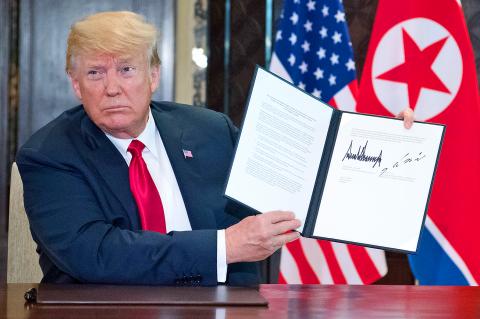 US President Donald Trump holds up a document signed by him and North Korean leader Kim Jong-un during their summit at the Capella Hotel on Singapore's Sentosa island yesterday.
Photo: AFP
Light on specifics, the document signed by the leaders largely amounted to an agreement to continue discussions as it echoed previous public statements and past commitments. It did not include an agreement to take steps toward ending the technical state of warfare between the US and North Korea.
The pair promised in the document to "build a lasting and stable peace regime" on the Korean Peninsula and to repatriate remains of prisoners of war and those missing in action during the Korean War.
Language on North Korea's bombs was similar to what the leaders of North and South Korea came up with at their own summit in April. At the time, the Koreans faced criticism for essentially kicking the issue of North Korea's nuclear arsenal down the road the Trump-Kim summit.
Trump and Kim even directly referenced the so-called Panmunjom Declaration, which contained a weak commitment to denuclearization and no specifics on how to achieve it.
After the signing, Trump said he expected to "meet many times" in the future with Kim and, in response to questions, said he "absolutely" would invite Kim to the White House.
For his part, Kim hailed the "historic meeting" and said they "decided to leave the past behind."
In a moment that would never happen in North Korea, reporters began yelling questions to Trump and Kim after they signed the document, including whether they had discussed the case of Warmbier.
Aware that the eyes of the world were on a moment many people never expected to see, Kim said many of those watching would think it was a scene from a "science fiction movie."
After meeting privately and with aides, Trump and Kim moved into the luncheon at a long flower-bedecked table. As they entered, Trump injected some levity to the day's extraordinary events, saying: "Getting a good picture everybody? So we look nice and handsome and thin? Perfect."
Then they dined on beef short rib confit along with sweet and sour crispy pork.
As they emerged from the meal for a brief stroll together, Trump appeared to delight in showing his North Korean counterpart the interior of "The Beast," the US presidential limousine known for its high-tech fortifications.
Alluding to the North's concerns that giving up its nuclear weapons could surrender its primary deterrent to forced regime change, Secretary of State Mike Pompeo told reporters that the US was prepared to take action to provide North Korea with "sufficient certainty" that denuclearization "is not something that ends badly for them."
He would not say whether that included the possibility of withdrawing US troops from the Korean Peninsula, but said the US was "prepared to take what will be security assurances that are different, unique, than America's been willing to provide previously."
Comments will be moderated. Keep comments relevant to the article. Remarks containing abusive and obscene language, personal attacks of any kind or promotion will be removed and the user banned. Final decision will be at the discretion of the Taipei Times.