Morris Chang says farewell at TSMC meeting
Taiwan Semiconductor Manufacturing Co (TSMC, 台積電) chairman Morris Chang (張忠謀) yesterday reassured company shareholders that the company would continue its "miraculous" growth as he handed over to his successors.
Making his final appearance as chairman at an annual shareholders' meeting, Chang, 87, said he has strong confidence that the new board of directors and management team would be a very capable combination and continue to grow the company.
Chang announced his succession and retirement plans in October last year, proposing a dual-leadership structure.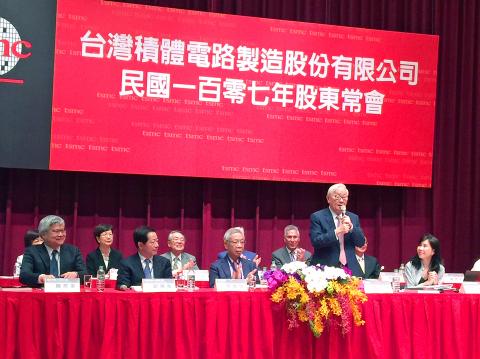 Incoming chief executive C.C. Wei, front left, and chairman Mark Liu, front second left, listen as retiring chairman Morris Chang, standing, speaks at Taiwan Semiconductor Manufacturing Co's annual shareholders' meeting in Hsinchu yesterday.
Photo: Hung Yu-fang, Taipei Times
He nominated joint chief executive Mark Liu (劉德音) to take his position as chairman and joint chief executive C.C. Wei (魏哲家) to become the sole chief executive.
Liu and Wei had been working as joint chief executives since 2013.
The board of directors yesterday approved the plan.
"I am pleased that the company has experienced almost miraculous growth over the past 31 years in terms of revenue, profit and its importance worldwide," Chang said in his opening speech to shareholders at the company's headquarters in Hsinchu. "I strongly believe that they [the new board and management team] will complete the succession plan smoothly and successfully. TSMC, definitely, will continue to create endless miracles. There is no end to that yet."
Starting from almost scratch, TSMC has grown into the world's largest chip foundry with a 56 percent share of the global market.
The chipmaker's market value swelled to NT$5.938 trillion (US$199.16 billion) as of yesterday, making it the most valuable company among local listed firms.
The company's market capitalization was less than US$220 million when it started in 1987, Chang said in October.
By last year, revenue rose 3.1 percent year-on-year to a record high of NT$977.45 billion.
Net profit also rose 3 percent to an all-time high of NT$343.11 billion, or earnings per share of NT$12.89.
TSMC set a goal to increase its annual revenue by between 5 and 10 percent in the next five years.
TSMC manufactured 9,920 products last year for 465 clients, including big names such as Apple Inc and Qualcomm Inc.
Answering a shareholder's question about how to overcome challenges, Chang said competition would always be TSMC's biggest challenge, like in any other company.
TSMC has one or two strong competitors in the area of advanced technology and a dozen more in legacy technologies, he said.
It has allocated tremendous human and economic resources to overcome those challenges, he said.
Global trade tensions are another challenge, Chang said.
"We are as a very important link in the semiconductor supply chain," Chang said. "If the US and China get into a serious trade dispute ... and a trade war starts that involves the electronics supply chain, we will be affected in some way."
TSMC has very large customer bases in the US and China, he said.
Commenting on the threat from the firm's Chinese rivals, Chang reiterated his forecast that TSMC's Chinese peers would lag behind by between five and seven years over next five to 10 years.
Comments will be moderated. Keep comments relevant to the article. Remarks containing abusive and obscene language, personal attacks of any kind or promotion will be removed and the user banned. Final decision will be at the discretion of the Taipei Times.