US, China squabble about Tiananmen Square anniversary
China yesterday lashed out at the US after Washington marked the anniversary of the 1989 Tiananmen Square Massacre by urging Beijing to disclose how many people were killed in the crackdown.
US Secretary of State Mike Pompeo on Sunday issued a statement to "remember the tragic loss of innocent lives" on June 4, 1989, when the Chinese Communist Party sent tanks to quash the peaceful demonstrations around Tiananmen Square in Beijing.
Pompeo quoted Nobel Peace Prize laureate Liu Xiaobo (劉曉波), a Chinese dissident who died of cancer while in custody last year, as saying: "As Liu Xiaobo wrote in his 2010 Nobel Peace Prize speech, delivered in absentia, the ghosts of June 4th have not yet been laid to rest."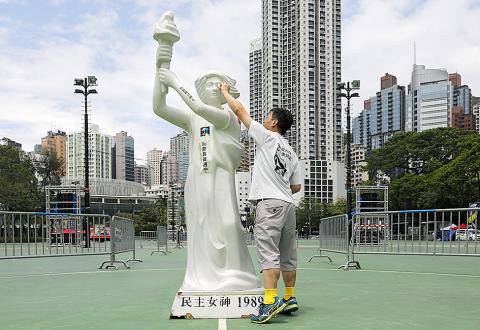 A man wipes the face of the statue of the Goddess of Democracy in Hong Kong's Victoria Park yesterday.
Photo: AP
"We join others in the international community in urging the Chinese government to make a full public accounting of those killed, detained or missing," he said.
He also urged China to release those jailed for trying to keep the memory of the protests alive, and stop harassing Tiananmen participants and their relatives.
The protests are branded a "counter-revolutionary rebellion" by Chinese authorities and many in China remain unaware of the crackdown due to censorship.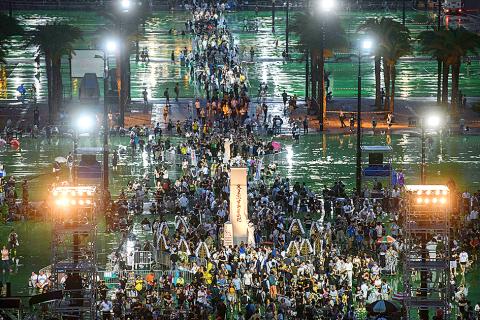 People arrive in Hong Kong's Victoria Park yesterday evening ahead of the annual candlelight vigil to commemorate the 1989 Tiananmen Square Massacre in Beijing.
Photo: AFP
"The Chinese government has already come to a clear conclusion regarding the political disturbances that occurred in the late 1980s," Chinese Ministry of Foreign Affairs spokeswoman Hua Chunying (華春瑩) told a regular news briefing.
Pompeo's statement is "groundlessly accusing the Chinese government and interfering in China's internal affairs. The Chinese side is strongly dissatisfied and resolutely opposes this," Hua said.
China has lodged an official diplomatic protest with the US, she said.
In their annual open letter, the Tiananmen Mothers, who represent the families of those who died, said the government was guilty of serious disrespect by ignoring their requests for redress and they urged Chinese President Xi Jinping (習近平) to acknowledge their suffering and "re-evaluate the June Fourth massacre."
"Such a powerful proletarian dictatorship apparatus is afraid of us: the old, the sick, and the weakest and most vulnerable of our society," they wrote.
Meanwhile, crowds last night assembled in Hong Kong's Victoria Park for an annual candlelit vigil to commemorate the victims of the massacre.
Organized by the Hong Kong Alliance in Support of Patriotic Democratic Movements in China, a group of veteran campaigners, the annual vigil has always had the democratization of China as its central message.
Additional reporting by Reuters and AFP
Comments will be moderated. Keep comments relevant to the article. Remarks containing abusive and obscene language, personal attacks of any kind or promotion will be removed and the user banned. Final decision will be at the discretion of the Taipei Times.