US senator, Tsai tout friendship
US Senator David Perdue while on a whirlwind visit to Taiwan yesterday expressed the hope that Taiwan and the US would face their common challenges through exchanges and cooperation.
Perdue made the remarks during a morning meeting with President Tsai Ing-wen (蔡英文) at the Presidential Office Building in Taipei, the first stop in his hours-long visit to Taiwan that was added to his Asia trip itinerary at the last minute to show his support amid growing Chinese pressure.
It was his first visit to Taiwan since becoming a senator in 2015, the Ministry of Foreign Affairs said.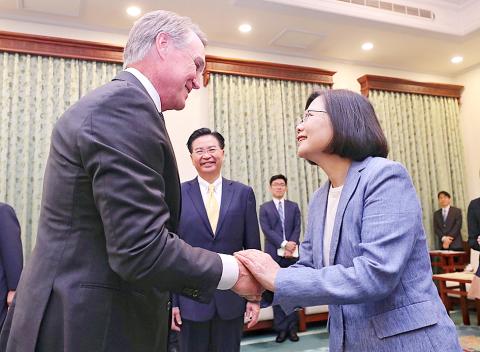 President Tsai Ing-wen, right, shakes hands with US Senator David Perdue yesterday at the Presidential Office Building in Taipei.
Photo: CNA
"We [the US] believe the world should be a peaceful place and yet this neighborhood is very troublesome in that regard," said Perdue, who serves on the US Senate Armed Services, Budget, and Agriculture, Nutrition and Forestry committees.
Perdue said the purpose of his visit was to "listen and learn" about the state of affairs in Taiwan, particularly the political, economic and military environments in which Tsai's administration is operating.
Taiwan and the US share some of the same problems, Perdue said, citing retirement issues, an aging population and slow economic recovery.
"So we understand the difficulties you have in your administration and we look forward to helping with that and working with you," Perdue said, adding that the two sides have been great friends for decades and that Washington appreciates the friendship of Taiwanese.
Tsai expressed her gratitude that more friends have been cheering for Taiwan since the nation's international plight has garnered more attention.
"Since becoming a US senator, Perdue has staunchly supported Taiwan's participation in the WHO and Interpol. I thank him for standing alongside Taiwanese to demonstrate our friendship," Tsai said.
The solidity of the Taiwan-US partnership is evidenced by Washington's announcement last year of arms sales to Taiwan, as well as its approval in April of a marketing license needed for US manufacturers to sell technology to Taiwan for its domestic submarine project, Tsai said.
On the economic front, Taipei and Washington enjoy a close trade relationship, which would benefit further from the signing of a bilateral free-trade agreement, Tsai said.
Later this month, Taiwan is to send a large delegation to attend the SelectUSA Investment Summit, which focuses on direct investment in the US, Tsai said, expressing the hope that a Taiwanese delegation could also visit Georgia, Perdue's state, next year to deepen bilateral agricultural exchanges.
Following his meeting with Tsai, Perdue attended a luncheon hosted by Minister of Foreign Affairs Joseph Wu (吳釗燮) before leaving Taiwan in the afternoon.
Comments will be moderated. Keep comments relevant to the article. Remarks containing abusive and obscene language, personal attacks of any kind or promotion will be removed and the user banned. Final decision will be at the discretion of the Taipei Times.