Ukraine under fire after faking journalist's murder
Ukraine yesterday was under fire after it admitted staging the murder of anti-Kremlin journalist Arkady Babchenko, despite relief in Russia and Ukraine that he was alive.
Babchenko made a shock reappearance at a news conference in Kiev on Wednesday, less than 24 hours after the Ukrainian authorities reported that he had been shot dead at his home in a contract-style killing blamed on Russia.
The Ukrainian security services said his death was faked to foil an assassination plot by Moscow, but Russian officials reacted with anger to what they branded an "anti-Russian provocation."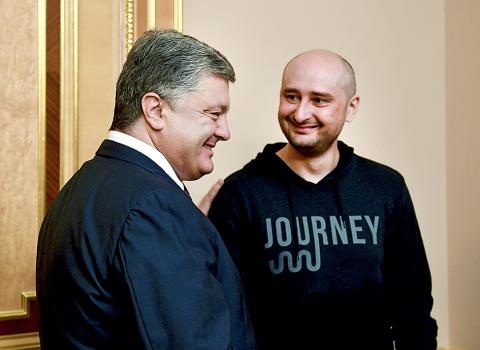 Ukrainian President Petro Poroshenko, left, meets Russian journalist Arkady Babchenko, who was declared murdered and then later turned up alive, in Kiev on Wednesday.
Photo: Reuters
The operation fooled the world's media and angered press freedom groups, which raised fears about the impact it could have on the work of journalists around the globe.
"There can be no grounds for faking a journalist's death," Reporters Without Borders secretary-general Christophe Deloire said on Wednesday, describing it as a "pathetic stunt."
"The first question is to what extent were there no alternatives to saving Babchenko's life in this way," analyst Igor Yakovenko wrote on his blog, adding that there would inevitably be consequences of the high-profile fakery.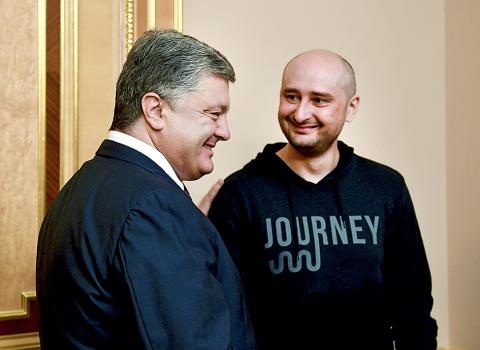 Ukrainian President Petro Poroshenko, left, meets Russian journalist Arkady Babchenko, who was declared murdered and then later turned up alive, in Kiev on Wednesday.
Photo: Reuters
An editorial in Russian daily Vedomosti said that the Babchenko operation "blurred the border between truth and fiction," and would lead to more distrust in the media.
Several Western commentators and reporters said it would be difficult to trust official statements from Ukraine again.
Babchenko, who told reporters he had been preparing to stage his death with secret services for several weeks, dismissed the criticism.
"I wish all these moralizers could be in the same situation — let them show their adherence to the principles of their high morals and die proudly holding their heads high without misleading the media," he wrote on Facebook.
Other commentators urged the media to focus on the fact that Babchenko is alive.
"The main thing is that the killing of a journalist was foiled, the organizers are caught and the journalist is alive," Russian political commentator Evgeny Roizman said.
Kiev itself sought to justify the fake death that provoked an outpouring of grief and a diplomatic spat with Moscow.
"Thanks to this operation we were able to foil a cynical plot and document how the Russian security service was planning for this crime," Ukrainian security service head Vasyl Grytsak said when he reintroduced Babchenko, alive and well, to the world.
Grytsak said the authorities had arrested the alleged mastermind of a plot against Babchenko, saying a Ukrainian citizen named only as "G" had offered to pay a hit man to carry out the killing after being recruited by Russian special forces and paid US$40,000.
Anton Gerashchenko, an adviser to the Ukrainian minister of the interior, likened the plot to a story from a crime novel.
"Sherlock Holmes successfully used the method of staging his own death to efficiently solve complicated crimes," he wrote on Facebook.
However, Moscow condemned the staged murder.
"Now the true motives are beginning to be revealed for this staging, which is totally, obviously yet another anti-Russian provocation," the Russian Ministry of Foreign Affairs said.
At the news conference in Kiev, Grytsak thanked Babchenko and his family, who he said were in the loop about the secret operation.
However, the journalist apologized to his wife for putting her through "this hell she had to live through for three days ... but there was no other option."
Comments will be moderated. Keep comments relevant to the article. Remarks containing abusive and obscene language, personal attacks of any kind or promotion will be removed and the user banned. Final decision will be at the discretion of the Taipei Times.