Complaint filed with the WHO
By Lu Yi-hsuan, Su Yung-yao, Jonathan Chin and William Hetherin / Staff reporters in Geneva, Switzerland, with staff writers
Minister of Health and Welfare Chen Shih-chung (陳時中) yesterday said the nation has filed an official complaint to express its "extraordinary outrage and dissatisfaction" regarding Taiwan's exclusion from the World Health Assembly (WHA) in Geneva, Switzerland.
For the second consecutive year, Taiwan was not invited to attend the assembly, despite calls from several WHO member states to grant Taiwan observer or participant status.
The nation's protest was delivered to WHO Director-General Tedros Adhanom Ghebreyesus on Monday, Chen told a news conference, adding that he signed the letter as the "Republic of China Minister of Health and Welfare."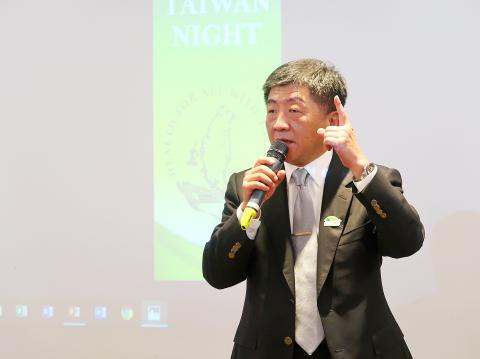 Minister of Health and Welfare Chen Shih-chung yesterday speaks at a Taiwan Night event organized by the Foundation of Medical Professionals Alliance in Taiwan in Geneva, Switzerland.
Photo: Lu Yi-hsuan, Taipei Times
While he conveyed Taiwan's well-wishes for this year's assembly, he also expressed the "extraordinary outrage and dissatisfaction" of the Taiwanese government and its people, he said.
The letter said that the WHO's decision stemmed from "blatant political interference," he said.
The letter was more strongly worded than the one the government sent last year, which highlighted the nation's contributions to global health and expressed its "dissatisfaction and disappointment," he said.
The nation in 2016 protested the assembly's usage of the name "Chinese Taipei" and conveyed its concerns that the WHO was acquiescing to Beijing's "one China" principle, he said.
In related news, President Tsai Ing-wen (蔡英文) said that China's obstruction of Taiwan's participation in the WHA as an observer is unhelpful to cross-strait relations and is harmful to global disease prevention efforts.
She made the comments on Tuesday while meeting in Taipei with a delegation from the Taiwanese Association of America.
China's "reckless behavior" does not benefit its global image, Tsai said.
"China not only interferes incessantly with our international participation, but also aggressively forces private companies around the world to change the way they refer to Taiwan," Tsai said, urging China to immediately cease its harmful behavior.
Taiwanese are resolved to "join the world [community] and walk out onto the world [stage]," she added.
Taiwan has no intention of changing its friendly stance toward China, Tsai said, adding that while the nation would never return to its former confrontational ambitions, it also would never surrender to Chinese aggression.
The association serves an important role in spreading awareness about Taiwan and its challenges in the face of Chinese aggression, she said.
Dealing with foreign relations challenges would rely not only on government efforts, but on the efforts of individuals and private organizations as well, she said.
These efforts have been fruitful, she added, citing the inclusion last year of Taiwan in the US' Global Entry Program and Washington's passage of the Taiwan Travel Act this year.
Tsai praised the efforts of Taiwanese living in the US who have held news conferences, written to US senators and representatives, and traveled to Geneva to push for Taiwan's participation in the WHA.
Their efforts have resulted in a show of support from 172 US representatives and 13 senators, who sent letters to the WHO calling for Taiwan's unconditional participation, she said.
Chen, who is leading a delegation to the sidelines of the assembly, would seek every opportunity to speak with world leaders about the nation's healthcare professionals and the importance of its contributions to global health, she said.
"There is no room for failure in our foreign relations efforts. Strengthening Taiwan is the only path forward," Tsai added.
Comments will be moderated. Keep comments relevant to the article. Remarks containing abusive and obscene language, personal attacks of any kind or promotion will be removed and the user banned. Final decision will be at the discretion of the Taipei Times.