Anwar freed from jail, declares 'new dawn' for Malaysia
NEMESIS-TURNED-ALLY: Prime Minister Mahathir Mohamad has said he will only serve one to two years. Anwar Ibrahim looks set to succeed him
Reformist Anwar Ibrahim yesterday declared a "new dawn for Malaysia" after his release from prison paved the way for a return to national politics as presumptive successor to Malaysian Prime Minister Mahathir Mohamad following a stunning election upset.
In scenes that captivated Malaysians, the charismatic 70-year-old returned to the national spotlight after the nation's king quashed a widely criticized sodomy conviction that had put Anwar behind bars for three years.
To ecstatic cries of "Reformasi" (Reform) — Anwar's ralling cry — he vowed to hundreds of journalists, supporters and prison guards to support the new government's efforts to clean up the country.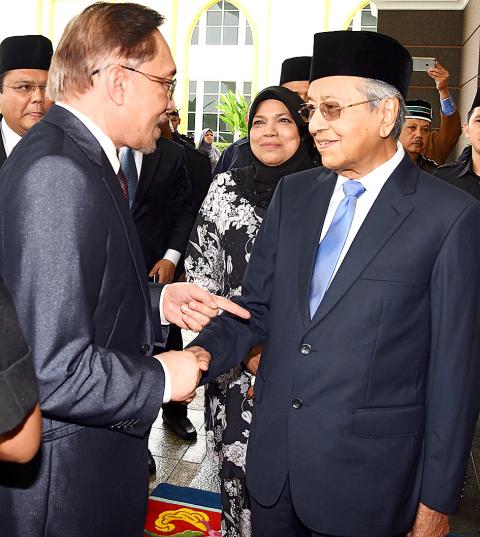 A handout photograph taken and released yesterday by the Department of Information shows Malaysian Prime Minister Mahathir Mohamad, right, shaking hands with former opposition leader Anwar Ibrahim following Anwar's release from custody at the National Palace in Kuala Lumpur.
Photo: AFP / Department of Information / Krish Balakrishnan
Anwar said he had forgiven Mahathir, 92, who had him imprisoned two decades ago, but has become his unlikely ally.
"Now there is a new dawn for Malaysia. I must thank the people of Malaysia," Anwar said, flanked by his wife, Wan Azizah Wan Ismail, and other members of his political party.
"The entire spectrum of Malaysians, regardless of race or religion, have stood by the principles of democracy and freedom. They demand change," he said.
Anwar has cast a long shadow over Malaysian politics for decades. He enjoyed a meteoric rise in the now-ousted Barisan Nasional (BN) coalition, but suffered a spectacular falling-out with his then-boss Mahathir in the late 1990s and was thrown in jail after being convicted of sodomy and abuse of power.
Upon his release the first time, he joined and revitalized the opposition coalition that ousted BN last week.
Anwar's release from his second jail term sets up a tantalizing reunion with his nemesis-turned-ally Mahathir.
Mahathir has said he expects to run the government for one to two years, but has signaled that the reins would be turned over to Anwar eventually.
Anwar said his history with Mahathir was water under the bridge, as they shared the same goals of reforming the government and cleaning up a massive corruption scandal involving former Malaysian prime minister Najib Razak.
"Bury the hatchet? It's been a long time already," Anwar said, when asked about Mahathir. "I have forgiven him."
He indicated that he had no immediate plans to get deeply involved in politics, but would support Mahathir's governing efforts as a "private citizen."
Anwar's release caps a remarkable reversal of fortune made possible by the BN's unexpected electoral drubbing a week ago.
The former autocrat Mahathir, who headed BN for 22 years until 2003, came out of retirement to lead the disparate opposition to a surprise victory.
Many had expected a BN win thanks to its tight hold over the media, government, police and electoral apparatus of the multicultural Muslim-majority nation.
However, the result laid bare the depth of disgust with Najib, who is implicated in a massive scandal in which billions of US dollars were plundered from the state investment fund 1MDB.
Comments will be moderated. Keep comments relevant to the article. Remarks containing abusive and obscene language, personal attacks of any kind or promotion will be removed and the user banned. Final decision will be at the discretion of the Taipei Times.