Mueller's questions for Trump probe possible obstruction
The probe into Russia's election interference and alleged links to US President Donald Trump's campaign has taken a new turn after the publication of questions Special Counsel Robert Mueller is seeking to ask the president, which cover topics including potential obstruction of the investigation.
Trump on Tuesday lashed out at the "disgraceful" disclosure of the queries, originally reported by the New York Times, which lay out detailed lines of inquiry by Mueller into whether Trump might have tried to obstruct the Russia probe.
Compiled by the president's lawyers, the questions — at least four dozen in all — also show that Mueller wants to find out what Trump knew about connections between members of his presidential campaign team and Russia.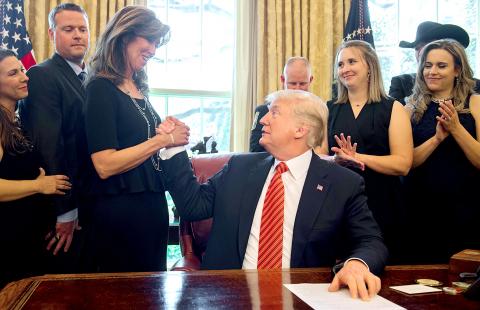 US President Donald Trump, center, congratulates Southwest Airlines captain Tammie Jo Shults, third left, who was the pilot of Southwest Airlines Flight 1380 which experienced engine failure between New York and Dallas last month, during a meeting with crew members and passengers of the flight at the Oval Office of the White House in Washington on Tuesday.
Photo: AFP
That includes a June 2016 meeting at Trump Tower with a Russian lawyer offering damaging information on election rival former US secretary of state Hillary Rodham Clinton, the Times said.
"It would seem very hard to obstruct justice for a crime that never happened! Witch Hunt!" Trump said in a round of early-morning tweets.
Trump incorrectly claimed there were no questions on the list about collusion, which he dismissed as "a made up, phony crime."
In fact, at least one question directly asks what Trump knew about his campaign aides, including former chairman Paul Manafort, seeking Russia's assistance, the Times reported.
"What knowledge did you have of any outreach by your campaign, including by Paul Manafort, to Russia about potential assistance to the campaign?" the question reads.
The questions also show Mueller wants to know if Trump offered a pardon to former national security adviser Michael Flynn, who has already been charged with lying to investigators and is believed to be cooperating with the probe, but there is no indication Trump is now an official suspect in the year-old investigation, or that Mueller has found evidence Trump colluded with the Russians — which the president on Tuesday again denied.
However, the Washington Post late on Tuesday reported that Mueller told the president's lawyers in early March that he could issue a subpoena for Trump to appear before a grand jury if he refuses to be interviewed by federal investigators.
The Post said that it was following that conversation that Trump's lawyer, Jay Sekulow, compiled a list of 49 questions that could be addressed to the president — the list published a day earlier by the Times.
"So disgraceful that the questions concerning the Russian Witch Hunt were 'leaked' to the media," Trump wrote on Twitter. "Oh, I see ... you have a made up, phony crime, Collusion, that never existed, and an investigation begun with illegally leaked classified information. Nice!"
The Times said Mueller's team read the questions over the telephone to Trump's legal team, which compiled them into a list.
The Times said it obtained the list from someone outside Trump's legal team.
Mueller's office did not immediately respond to requests for comment.
Comments will be moderated. Keep comments relevant to the article. Remarks containing abusive and obscene language, personal attacks of any kind or promotion will be removed and the user banned. Final decision will be at the discretion of the Taipei Times.