NTU expresses regret over decision to block Kuan
National Taiwan University (NTU) yesterday expressed its strong objection and regret over the Ministry of Education's decision the previous day to not approve the appointment of Kuan Chung-ming (管中閔) as school president.
NTU said in a statement that it had adhered to regulations throughout the election process, contrary to the reasons cited by the ministry for not appointing him.
Deputy Minister of Education Lin Teng-chiao (林騰蛟) on Friday cited conflict of interest as the main factor in the ministry's decision not to confirm Kuan's appointment.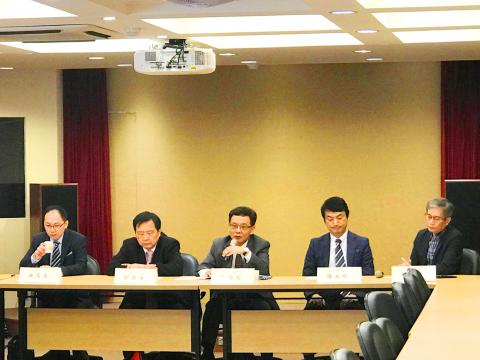 National Taiwan University (NTU) professor of political science Philip Yang, second right, attends a news conference in Taipei yesterday at which he criticized the Ministry of Education, saying that by not approving the appointment of NTU president-elect Kuan Chung-ming, it was jeopardizing democracy and the rule of law.
Photo: Peng Wan-hsin, Taipei Times
Lin was referring to Kuan serving as an independent director on the board of Taiwan Mobile (台灣大哥大) during the election while Taiwan Mobile vice chairman Richard Tsai (蔡明興) was on the NTU president election committee.
Regarding whether NTU would accept the ministry's decision and start a new election process, it only said that it would "act in accordance with the law" once it receives a written notice of the decision.
Minister of Education Wu Maw-kuen (吳茂昆) on Friday said the ministry would step in if any legal issues arise in the new election process.
Kuan had breached NTU regulations by not disclosing his role as an independent director at Taiwan Mobile while Tsai was sitting on the election committee, he said.
It is now up to the committee to verify the conflict of interest and decide whether Kuan should be nominated again, Wu said.
Kuan, who was scheduled to take office on Feb. 1, has declined to comment on the decision.
Wang Fan-sen (王汎森), former vice president of Academia Sinica and one of the candidates for NTU president who lost to Kuan, said in a text message on Friday that he would not run for school president.
Another candidate, former National Tsing Hua University vice president Wu Cheng-wen (吳誠文), also said that he would not run if the election process is marred by controversy and outside intervention.
The NTU student council has called for the implementation of "much-needed reforms" and has urged the school administration not to wait until a new president takes office.
The proposed reforms include introducing more gender-friendly facilities and clarifying the regulations pertaining to renting out the school's gym and sports facilities, the student council said.
Comments will be moderated. Keep comments relevant to the article. Remarks containing abusive and obscene language, personal attacks of any kind or promotion will be removed and the user banned. Final decision will be at the discretion of the Taipei Times.