Bureau says cold spell expected to arrive tomorrow
Temperatures in northern and northeastern Taiwan are forecast to drop tomorrow due to a cold front and a strong northeast monsoon, the Central Weather Bureau said yesterday.
Although Taipei yesterday hit a high of 34.1?C at 1:48pm, its highest temperature this year, cloudy to sunny skies are forecast for most of the nation today, although showers or thundershowers are forecast for the east coast, as well as brief thundershowers for the north and in mountainous areas in the center and south, the bureau said.
Residents along the east coast and in the areas north of central Taiwan should be prepared for temporary showers, thundershowers or even heavy rainfall tomorrow and Wednesday, the bureau said, adding that chances of isolated showers are high for other regions.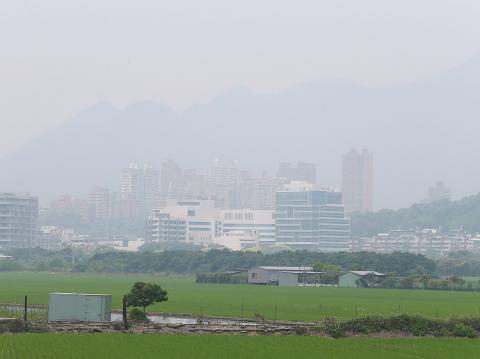 Haze hangs over the Guandu plain in Taipei yesterday, limiting visibility.
Photo: CNA
The northeast monsoon is expected to continue affecting the weather on Thursday, bringing isolated showers to the north and east of Taiwan proper and the mountains in the center and south, it said.
Temperatures would gradually rise on Friday and Saturday as the monsoon weakens, but chances for showers for the east coast and the mountainous areas in the north would remain high, it said.
Fog might lower visibility in Kinmen and Matsu, while residents of southeastern Taiwan proper should be prepared for foehn winds, the bureau said.
Temperatures are forecast to rise between Sunday and Tuesday next week, it said.
In related news, the air quality in most parts of western Taiwan was generally rated "unhealthy" yesterday, due to a lack of wind, the Environmental Protection Administration (EPA) said.
Ten of the agency's monitoring stations in northern and western Taiwan at 11am gave a red warning, the third-most severe level on its six-color system to measure concentrations of ozone, PM2.5 and PM10 — airborne particles measuring 2.5 micrometers or 10 micrometers — of carbon monoxide, sulfur dioxide and nitric oxide.
The EPA's Air Quality Monitoring Network showed that 30 stations in western Taiwan and one on Kinmen signaled orange, which is one level under red.
The poor air quality was expected to continue today, but improve tomorrow through Thursday as the cold front moves across the nation along with northwesterly winds, the EPA said.
Additional reporting by CNA and staff writer
Comments will be moderated. Keep comments relevant to the article. Remarks containing abusive and obscene language, personal attacks of any kind or promotion will be removed and the user banned. Final decision will be at the discretion of the Taipei Times.