Democratic Party sues Trump camp, Russia, WikiLeaks
The US Democratic Party on Friday sued US President Donald Trump's presidential campaign, Russia, WikiLeaks and Trump's son and son-in-law, accusing them of an intricate conspiracy to undercut Democrats in the 2016 US presidential election by stealing tens of thousands of e-mails and documents.
The lawsuit filed in Manhattan federal court seeks unspecified damages and an order to prevent further interference with computer systems of the Democratic National Committee (DNC).
"During the 2016 presidential campaign, Russia launched an all-out assault on our democracy, and it found a willing and active partner in Donald Trump's campaign," DNC Chairman Tom Perez said in a statement.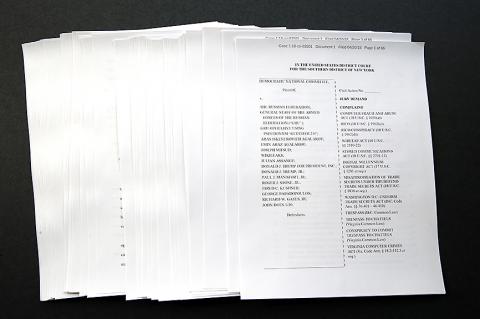 A lawsuit filed by the US Democratic National Committee is pictured in Washington on Friday.
Photo: AP
He called it an "act of unprecedented treachery."
Democrats accused Trump and his associates of trading on pre-existing relationships with Russian oligarchs tied to Russian President Vladimir Putin and of collaborating with Russia as it worked to undermine Democratic presidential candidate Hillary Rodham Clinton.
The campaign would seek to turn the tables on the Democrats, using the legal discovery process to try to pry documents from the DNC, including any related to a dossier detailing allegations of links between Trump and Russia, Trump campaign manager Brad Parscale said in a statement.
Trump tweeted that the DNC lawsuit could be "very good news," saying that his campaign "will now counter for the DNC Server that they refused to give to the FBI," as well as Clinton's e-mails.
Trump's tweet also referred to "the Wendy Wasserman Schultz Servers and Documents held by the Pakistani mystery man."
He appeared to be referring to former DNC chairwoman Debbie Wasserman Schultz and reports of an information technology specialist who once worked for some Democrats in the US House of Representatives.
Wendy Wasserstein was a playwright whose dramas included the Pulitzer Prize-winning The Heidi Chronicles.
Requests for comment from the Russian embassy in Washington were not immediately returned.
The "brazen attack on American democracy" began with a cyberattack on DNC computers and phone systems in 2015, allowing the extraction of tens of thousands of documents and e-mails, the DNC said.
WikiLeaks published many of the documents on July 22, 2016, shortly before Clinton was to be nominated — casting a shadow over the Democratic National Convention.
That added up to a "campaign of the presidential nominee of a major party in league with a hostile foreign power to bolster its own chance to win the presidency," DNC lawyers wrote in the lawsuit.
That conspiracy violated the laws of the US, Virginia and the District of Columbia, and "under the laws of this nation, Russia and its coconspirators must answer for these actions," the lawsuit says.
The DNC accused Donald Trump Jr of secretly communicating with WikiLeaks and blamed the president as well, saying that he praised the illegal dissemination of DNC documents throughout fall 2016, making it a central theme of his speeches and rallies.
The DNC identified Trump's son-in-law Jared Kushner as a coconspirator for his role overseeing the campaign's digital operation.
Comments will be moderated. Keep comments relevant to the article. Remarks containing abusive and obscene language, personal attacks of any kind or promotion will be removed and the user banned. Final decision will be at the discretion of the Taipei Times.