Avoid government's cross-strait 'red line': academics
Taiwanese academics engaging in cross-strait exchanges should heed regulations to avoid crossing the government's "red line," local academics said.
Visiting China has become a sensitive issue for local academics after National Taiwan University president-elect Kuan Chung-ming (管中閔) was accused of having taught at several universities in China, which would contravene laws governing public-school instructors.
Disputes over Kuan's eligibility for the position led to the resignation of former minister of education Pan Wen-chung (潘文忠) last week, while Pan's successor, Minister of Education Wu Maw-kuen (吳茂昆), has also been questioned by the Chinese Nationalist Party (KMT) about his work in China.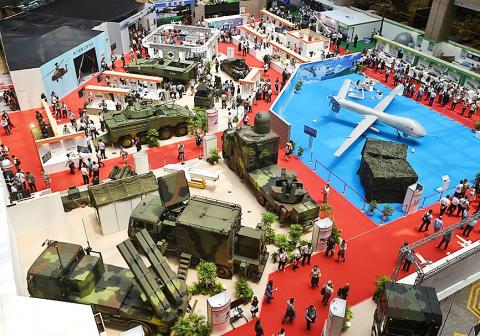 Ministry of National Defense military equipment is exhibited at the Taipei Aerospace and Defense Technology Exhibition at the Taipei World Trade Center on Aug. 17 last year.
Photo: Fang Pin-chao, Taipei Times
Cross-strait academic exchanges should be encouraged, but the government should more publicly highlight relevant regulations to academics, National Taiwan University Department of Mechanical Engineering professor Chen Ping-hei (陳炳輝) said.
For example, the Mainland Affairs Council forbids local academics from signing any contracts related to the Chinese government or military, while the Ministry of Education in 2009 decreed that local academics cannot be employed in China, Chen said.
In a bid to prevent the nation's vital technical knowledge from leaking to other nations, the Ministry of Science and Technology said it requires researchers in certain fields to report in advance if they are to work with foreign partners.
The ministry has identified knowledge in six domains — agricultural science; industrial manufacturing; aeronautical and satellite engineering; marine science; and IC design and manufacturing — as "sensitive technology," because it might undermine the nation's security or economy if leaked to China, Hong Kong, Macau or other nations.
Researchers receiving government subsidies for projects in those six domains are required to report to supervising agencies before they work with or transfer technology to foreign partners, the ministry said.
For example, researchers in the field of agricultural science should report to the Council of Agriculture, while those in the field of marine science should report to the ministry, which would then decide whether their plans threaten national security or local industry, it said.
The Ministry of Education should quickly clarify the "rules of the game" regarding cross-strait academic exchanges, or it would be forced to deal with many more cases like that of Wu, Taiwan Higher Education Union secretary-general Chen Cheng-liang (陳政亮) said.
Comments will be moderated. Keep comments relevant to the article. Remarks containing abusive and obscene language, personal attacks of any kind or promotion will be removed and the user banned. Final decision will be at the discretion of the Taipei Times.