Armada of ships carrying US sorghum divert at sea
Several ships carrying cargoes of sorghum from the US to China have changed course since Beijing slapped hefty anti-dumping tariffs on US imports of the grain, trade sources and a Reuters analysis of export and shipping data showed.
Sorghum is a niche animal feed and a tiny slice of the billions of US dollars in exports at stake in the trade dispute between the world's two largest economies, which threatens to disrupt the flow of everything from steel to electronics.
The supply chain pain felt by sorghum suppliers on the Pacific, Atlantic and Indian oceans underscores how quickly the mounting trade tensions between the US and China can affect the global agricultural sector, which has been reeling from low commodity prices amid a global grains glut.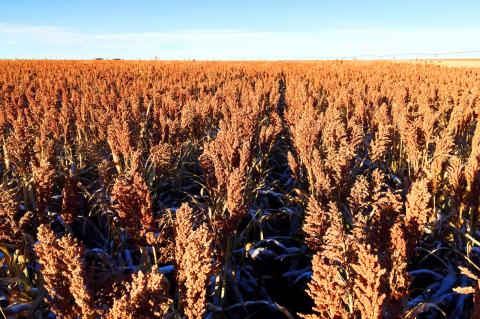 A field of sorghum is seen at a farm outside of Texhoma, Oklahoma, in an undated photograph released on April 3.
Photo: Reuters
Twenty ships carrying more than 1.2 million tonnes of US sorghum are on the water, US Department of Agriculture Federal Grain Inspection Service export inspections data showed.
Of the armada, valued at more than US$216 million, at least five vessels changed course within hours of China's announcement of tariffs on US sorghum imports on Tuesday, Reuters shipping data showed.
The five shipments, all headed for China when they were loaded at Texas Gulf Coast export terminals owned by grain merchants Cargill Inc or Archer Daniels Midland Co (ADM), would be liable for a hefty deposit to be paid on their value, which could make the loads unprofitable to deliver.
Beijing, which is probing US imports for damage to its domestic industry, on Tuesday announced that grains handlers would have to put up a deposit of 178.6 percent of the value of the shipments.
Cargill and ADM likely sold most of the grain in the cargoes that are on the water, traders said.
In a statement to Reuters on Thursday, Cargill confirmed that it is the exporter.
The firm declined to confirm what is in the ships, the final destinations or the tonnage, nor name the customers.
The company also declined to confirm why the ships stopped, or if they are being redirected, but said that it does not have any responsibility for costs that might result.
ADM representatives declined to comment.
For now, at least, two of the world's largest grain merchants are among those feeling the effect of the latest trade tussle with China, even if it is just a short-term issue, Fitch Ratings senior director of corporate ratings Bill Densmore said.
"For their overall trade businesses, this is not that substantial, but it's a warning," Densmore said. "If China really does start slapping tariffs on everything, like soybeans and corn, things could get really ugly, really fast."
Beijing's move has heaped more strain on an already tense trade relationship between the world's two largest economies.
Traders said the deposit was high enough to bring US imports to a halt.
Sorghum is used in livestock feed and a type of Chinese liquor.
The news had an immediate effect on the global grains market: Bids for cargoes of Australian sorghum, which are not subject to the higher tariffs, spiked following the announcement, traders said.
Industry sources in China said some of the cargoes might be redirected to Southeast Asian countries, such as Vietnam and the Philippines, to feed hog and poultry plants owned by Chinese feed producers.
However, those countries and others in the region are small importers of sorghum.
Vietnam has never imported US sorghum and the Philippines imported just 19,000 tonnes in the 2016-2017 season, department data showed.
China, by contrast, imported more than 5.2 million tonnes last season, nearly 10 times more than No. 2 importer Japan, the data showed.
Comments will be moderated. Keep comments relevant to the article. Remarks containing abusive and obscene language, personal attacks of any kind or promotion will be removed and the user banned. Final decision will be at the discretion of the Taipei Times.