Lockheed to offer F-22, F-35 hybrid to Japan: sources
US defense contractor Lockheed Martin plans to offer Japan a stealth fighter design based on its export-banned F-22 Raptor and advanced F-35 Lightning II aircraft, two sources said.
Lockheed has discussed the idea with Japanese Ministry of Defense officials and would make a formal proposal in response to a Japanese request for information after it receives permission from the US government to offer the sensitive military technology, said the sources, who have direct knowledge of the proposal.
The decision on whether to release parts of the highly classified aircraft designs and software to help Japan stay ahead of Chinese advances would test US President Donald Trump's promise to overhaul Washington's arms export policy.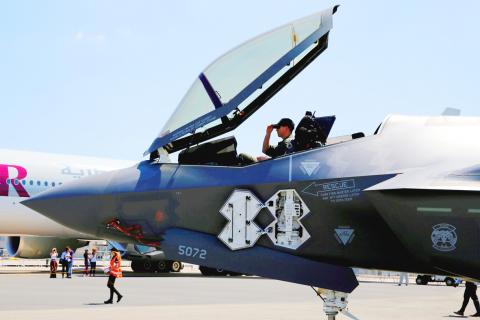 A US Air Force airman sits in the cockpit of a Lockheed Martin F-35 Lighting II before the Paris Air Show at Paris-Le Bourget Airport on June 18 last year.
Photo: Reuters
The proposed aircraft "would combine the F-22 and F-35, and could be superior to both of them," one of the sources said.
Japan, which is already buying the stealthy F-35 to modernize its inventory, also wants to introduce a separate air superiority fighter in the 2030s to deter intrusions into its airspace by Chinese and Russian jets.
The Japan Air Self-Defense Force operates the Mitsubishi Heavy Industries F-15J, based on the Boeing F-15, and the Mitsubishi F-2, based on the Lockheed Martin F-16. Both designs are decades old.
Japan's ambition to build its own stealth fighter was in part spurred by Washington's refusal a decade ago to sell it the twin-engine F-22, which is still considered the world's best air superiority fighter.
Although the Japanese stealth aircraft program, dubbed the F-3, was conceived as a domestic effort estimated to cost about US$40 billion, Tokyo has recently sought international collaboration in a bid to share the expense and gain access to technology it would otherwise have to develop from scratch.
However, any aircraft built with international partners must have Japanese-designed engines and radar and feature other components made locally, the other source said.
Mitsubishi tested a prototype stealth jet in 2016 that cost the Japanese government US$350 million to develop.
"We are considering domestic development, joint development and the possibility of improving existing aircraft performance, but we have not yet come to any decision," a ministry spokesman said yesterday.
The Japanese government last month issued a third request for information for the F-3 to foreign defense companies and sent a separate document outlining its requirements in more detail to the British and US governments.
In addition to a proposal from Lockheed Martin, Japan is hoping for responses from Boeing Co, which makes the F/A-18E/F Super Hornet multi-role fighter, and BAE Systems, which is part of the consortium that built the Eurofighter Typhoon high-altitude interceptor.
"We look forward to exploring options for Japan's F-2 replacement fighter in cooperation with both the Japanese and US governments," a Lockheed Martin spokeswoman said. "Our leadership and experience in fifth-generation aircraft can be leveraged to cost-effectively provide capabilities to meet Japan's future security needs."
Boeing and BAE did not immediately reply to requests for comment.
Comments will be moderated. Keep comments relevant to the article. Remarks containing abusive and obscene language, personal attacks of any kind or promotion will be removed and the user banned. Final decision will be at the discretion of the Taipei Times.