Legislators call on global community to allow Taiwan to attend the WHA
Legislators and representatives from 19 healthcare professional groups yesterday called for global attention to the importance of allowing Taiwan to attend the 71th annual World Health Assembly (WHA), scheduled to be held in Geneva, Switzerland, from May 21 to May 26.
"Taiwan should be allowed to attend the WHA to pursue universal health coverage," the lawmakers and representatives said while holding hands at an international news conference in Taipei before discussing the theme "Taiwan needs WHA and WHA needs Taiwan. Leave no one behind."
Taiwan Medical Association (TMA) president and Democratic Progressive Party (DPP) Legislator Chiu Tai-yuan (邱泰源) said this year's WHO World Health Day theme is "universal health coverage," meaning that basic health services should be a human right.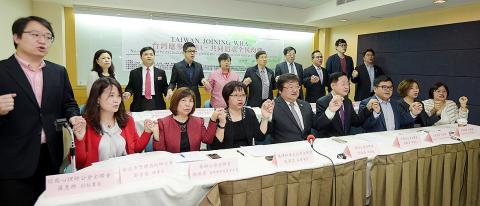 Representatives of 19 medical groups yesterday hold a joint news conference in Taipei to express Taiwan's willingness to participate in the World Health Assembly next month.
Photo: Chang Chia-ming, Taipei Times
He cited the accomplishments of the government and local healthcare organizations, including the National Health Insurance scheme — which was the first single-payer system in Asia and earned a top spot on global healthcare system accreditation — the establishment of the first craniofacial center in Southeast Asia; the Long-Term Care 2.0 policy; and pioneering in pediatric liver, heart and kidney transplant surgery in Asia.
"Taiwan is a dedicated contributor in international healthcare organizations and has invested US$6 billion in international healthcare activities and humanitarian aid since 1996, benefiting millions of people in more than 80 countries," Chiu said, adding that Taiwanese are willing to share experiences and knowledge.
National Union Association of Chinese Medical Doctors director-general Chen Wang-chuan (陳旺全) said healthcare services in Taiwan are capable of taking care of the nation's more than 23 million people and that healthcare organizations hold many significant international conferences.
DPP Legislator Lin Ching-yi (林靜儀) said Taiwanese healthcare practitioners are passionate, knowledgeable and have the professional abilities to take on global responsiblies.
The WHA should not be a political issue, so excluding Taiwan from WHA participation is unfair to Taiwanese and the rest of the world, Lin said.
Comments will be moderated. Keep comments relevant to the article. Remarks containing abusive and obscene language, personal attacks of any kind or promotion will be removed and the user banned. Final decision will be at the discretion of the Taipei Times.