PRC to hit US soybeans, jets as trade war looms
TARIFFS: A third of US soybean exports go to China and the product comes from rural states that voted for Donald Trump in the 2016 presidential election
China yesterday unveiled plans to hit US$50 billion of major US exports such as soybeans, automobiles and small airplanes with retaliatory tariffs in an escalating trade duel between the world's top two economies.
The move came hours after US President Donald Trump's administration published its own US$50 billion list of Chinese products facing US tariffs over Beijing's alleged theft of intellectual property and technology.
The two powers have engaged in heated rhetoric and tit-for-tat actions that have raised the prospects of a trade war.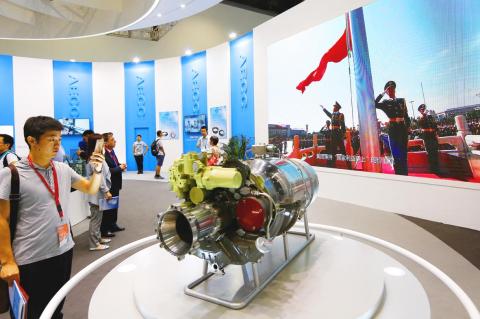 A visitor looks at an aircraft component part on display at the Aviation Expo China in Beijing on Sept. 20 last year. China yesterday vowed to take measures of the "same strength" in response to proposed US tariffs on US$50 billion of Chinese goods.
Photo: AP
Chinese Ministry of Foreign Affairs spokesman Geng Shuang (耿爽) said China remains open to talks, "but the opportunity for consultation and negotiation has been missed by the US side time and again."
"The US side should not try to threaten China in a condescending way. We should have give and take, instead of threatening the others senselessly," Geng told reporters before Beijing announced the tariff plan. "Any attempt to bring China to its knees through threats and intimidation will never succeed. It will not succeed this time either."
The Chinese Ministry of Commerce unveiled a list of 106 products, including chemical products and frozen beef, that would be hit by duties of 25 percent, though it did not announce a date for the implementation.
A third of US soybean exports go to China, totaling US$14 billion last year, and the product comes from rural states that voted for Trump in the 2016 presidential election.
The tariffs also target airplanes that weigh no more than 45,000kg — smaller than the major commercial jets made by Boeing Co.
The targeted airplanes would include private jets such as the Gulfstream V and others that have been snapped up by China's elite.
Beijing said it would also resort to the WTO's dispute settlement mechanism.
Taken together the US$100 billion of targeted goods represent about 17 percent of the US$580 billion in two-way trade last year.
On Monday, Beijing imposed duties on about US$3 billion of US exports such as pork, wine and fruit, in response to US tariffs on steel and aluminum.
The US list, which was published on Tuesday, includes electronics, aircraft parts, satellites, medicine, machinery and other goods — and it has yet to be finalized.
"The proposed list of products is based on extensive interagency economic analysis and would target products that benefit from China's industrial plans, while minimizing the impact on the US economy," the Office of US Trade Representative Robert Lighthizer said in a statement.
It identifies about 1,300 goods that could face duties of 25 percent, but remains subject to a review process that would last through at least next month.
Comments will be moderated. Keep comments relevant to the article. Remarks containing abusive and obscene language, personal attacks of any kind or promotion will be removed and the user banned. Final decision will be at the discretion of the Taipei Times.