Chinese 'beggars' arrested by NIA set to be deported
The National Immigration Agency (NIA) yesterday announced the arrest of two ringleaders of a gang of Chinese "beggars," who had been earning money in Taiwan by engaging in illegal activities as street performers and musicians at night markets and other public places.
Investigations by the NIA Special Operations Brigade in New Taipei City found that all the gang members have physical disabilities, which they use to elicit sympathy and generosity from passersby.
The gang was allegedly making about NT$4 million (US$137,231) a month.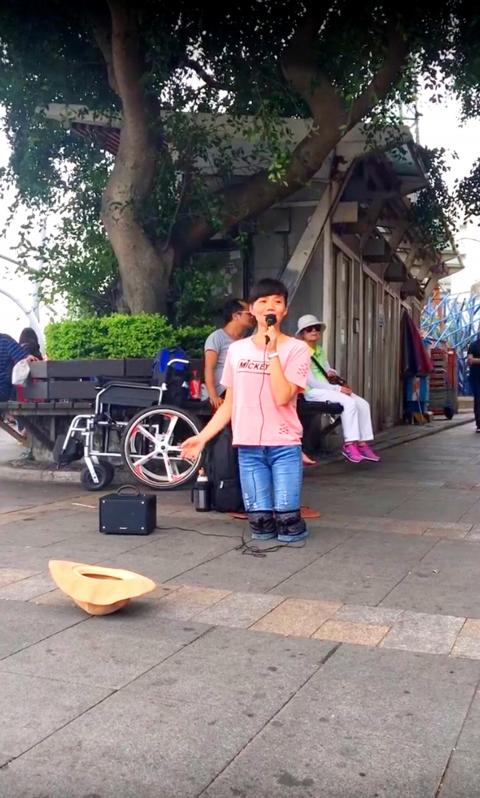 Chinese street artist and double amputee Feng Jianxia busks in New Taipei City's Tamsui District in an undated photograph.
Photo: screen grab from YouTube
The ringleaders were identified as Yang Youmin (楊有民), 51, and Feng Jianxia (馮建霞), 36, who headed up group of 20 Chinese who have illegally overstayed their entry permits, NIA officials said.
Yang and Feng have been arrested along with their Taiwanese driver surnamed Fan (范).
"At first we thought they were isolated cases, but investigations found that ... Yang and Feng had recruited the other members and were paying their wages, and had arranged accommodations for them," brigade Deputy Chief Chen Kuan-yuan (陳冠元) said.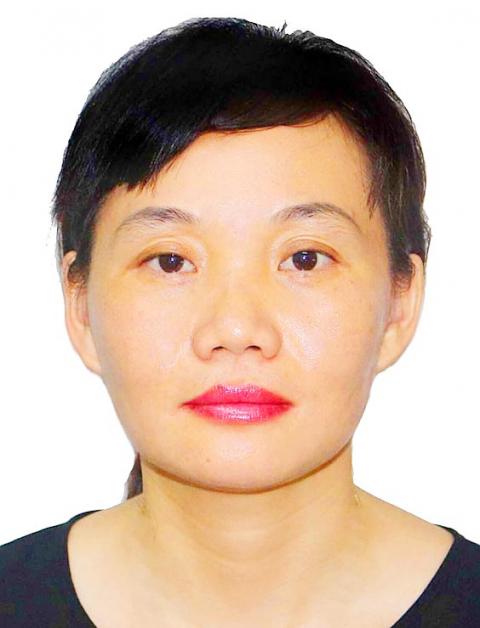 Chinese street artist and double amputee Feng Jianxia is pictured in an undated photograph taken from the National Immigration Agency's Web site.
Photo: Hsu Sheng-lun, Taipei Times
Yang is from China's Shaanxi Province and he is unable to walk due to polio. Feng, his girlfriend, was in charge of the accounts and they were helped by Fan, who found accommodation and transported the group's members to night markets, tourist attractions and other public places where they lip-synced to music from portable speakers, Chen said.
The Chinese were not allowed to perform for money since they entered the nation by applying for entry permits to receive medical treatment, Chen said, adding that investigations found that they had all overstayed their visas by at least four months, with Feng staying for more than a year.
Feng, a double amputee, had been featured in news reports for her "wonderful singing voice," with some saying she sounded like Taiwanese entertainer Chou Huei (周蕙).
Under questioning, Feng admitted she had been lip-syncing to a recording, Chen said.
"At one location, Feng allegedly made more than NT$10,000 in one afternoon," Chen said. "Their accounting ledger indicates that each member received about NT$200,000 per month and we estimate overall they made monthly profits of about NT$4 million."
NIA officials said Yang, Feng and the other members of the gang would be charged with breaching the Act Governing Relations between the People of the Taiwan Area and the Mainland Area (臺灣地區與大陸地區人民關係條例) and deported back to China after the case has been processed by the New Taipei District Prosecutors' Office.
It is an organized group that also has members in Hong Kong, Singapore and Malaysia, NIA officials said.
Comments will be moderated. Keep comments relevant to the article. Remarks containing abusive and obscene language, personal attacks of any kind or promotion will be removed and the user banned. Final decision will be at the discretion of the Taipei Times.