China slaps retaliatory tariffs on 128 US products
'TRADE WAR': The US measures seriously violated the principle of non-discrimination, which has infringed on the interests of China, the Chinese Ministry of Commerce said
China yesterday imposed tariffs on 128 US imports worth US$3 billion, including fruit and pork in retaliation against US duties on steel and aluminum that Beijing said "seriously infringed" on Chinese interests.
The move, which was decided by the customs tariff commission of the Chinese State Council, followed weeks of rhetoric that has raised fears of a trade war between the world's two biggest economies.
US President Donald Trump's administration had said that its duties were aimed at steel and aluminum imports that it deemed a threat to US national security, but the Chinese Ministry of Commerce yesterday called that reasoning an "abuse" of WTO guidelines.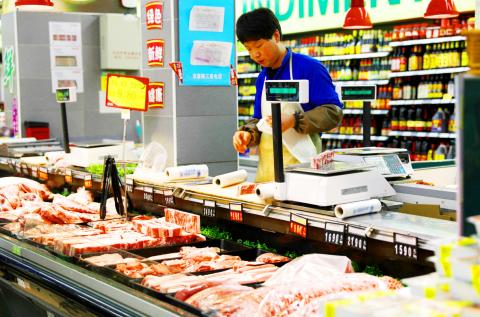 A supermarket assistant stands at a pork counter in a supermarket in Beijing on March 23.
Photo: EPA
The US measures "are directed only at a few countries, seriously violating the principle of non-discrimination as a cornerstone of the multilateral trading system, which seriously infringed the interests of the Chinese side," a statement on the ministry Web site said.
Trump has repeatedly railed against China's massive trade surplus with the US and promised during the election campaign to take steps to slash the US deficit.
Beijing last month said that it was considering tariffs of 15 to 25 percent on a range of products that also include wine, nuts and aluminum scrap.
They came into force yesterday, Xinhua news agency said, citing a government statement.
The levies are in response to tariffs of 10 percent on aluminum and 25 percent on steel that have also angered US allies.
"We hope that the United States can withdraw measures that violate WTO rules as soon as possible to put trade in the relevant products between China and the US back on a normal track," the ministry statement said. "Cooperation between China and the United States, the world's two largest economies, is the only correct choice."
Trump has temporarily suspended the tariffs for the EU, as well as Argentina, Australia, Brazil, Canada, Mexico and South Korea.
However, the White House has unveiled plans to impose new tariffs on about US$60 billion of Chinese imports over the "theft" of intellectual property (IP).
Chinese Vice Premier Liu He (劉鶴), the top economic official, last month told US Secretary of the Treasury Steven Mnuchin in a telephone call that the IP investigation violated international trade rules and Beijing was "ready to defend its national interests."
However, Beijing has so far held fire against major US imports, such as soybeans or Boeing Co aircraft — items that state-run daily the Global Times suggested should be targeted.
The nationalist newspaper said in an editorial last week that China has "nearly completed its list of retaliatory tariffs on US products and will release it soon."
"The list will involve major Chinese imports from the US," the newspaper wrote, without saying which items were included.
"This will deal a heavy blow to Washington that aggressively wields the stick of trade war and will make the US pay a price for its radical trade policy toward China," the Global Times wrote.
Despite the rhetoric, US Secretary of Commcerce Wilbur Ross on Thursday suggested the new measures on intellectual property were a "prelude to a set of negotiations."
The US ran a US$375.2 billion deficit with China last year.
Comments will be moderated. Keep comments relevant to the article. Remarks containing abusive and obscene language, personal attacks of any kind or promotion will be removed and the user banned. Final decision will be at the discretion of the Taipei Times.