EPA deputy head must resign: KMT lawmakers
Chinese Nationalist Party (KMT) lawmakers yesterday demanded that Environmental Protection Administration (EPA) Deputy Minister Thomas Chan (詹順貴) step down after he cast the deciding vote to approve state-run Taiwan Power Co's (Taipower, 台電) proposal to upgrade the coal-fired Shenao Power Plant in New Taipei City's Rueifang District (瑞芳).
The agency on Wednesday night finalized an environmental impact assessment of the power plant, with Chan casting the deciding vote after assessment committee members were tied 8-8 on the proposed upgrade.
Shortly after the start of a meeting yesterday of the Legislative Yuan's Social Welfare and Environmental Hygiene Committee to review proposed amendments to the Air Pollution Control Act (空氣汙染防制法), the KMT caucus filed a procedural motion and demanded that Chan resign for allowing Taipower's proposal to pass.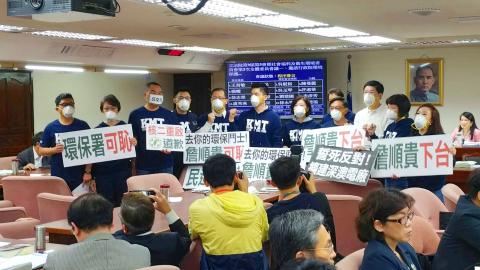 Chinese Nationalist Party (KMT) lawmakers hold signs and demand that Environmental Protection Administration (EPA) Deputy Minister Thomas Chan step down at the Legislative Yuan in Taipei yesterday.
Photo: CNA
Chan was a prominent environmentalist before assuming his post in May 2016.
KMT lawmakers donned masks and shouted slogans against what they called the Democratic Progressive Party's (DPP) erroneous energy policy, which they said included upgrading the Shenao plant and the reactivation of a reactor at the Guosheng Nuclear Power Plant in New Taipei City's Wanli District (萬里).
Upgrading the Shenao plant would exacerbate New Taipei City's air pollution and runs counter to the DPP's pledge to reduce coal-fired power generation, they said.
By casting the vote, Chan has not only failed to live up to his position as EPA deputy minister and his reputation as an environmentalist, but he also failed all environmental groups, KMT Legislator Alicia Wang (王育敏) said.
Chan should clarify whether "top management" had given him an order to cast the vote, KMT caucus secretary-general Lee Yen-shiu (李彥秀) said, adding that until then, it would be pointless to review proposed amendments to the act.
Later at a question-and-answer session, EPA Minister Lee Ying-yuan (李應元) said that the proceedings of Wednesday's review were entirely legal.
His remarks drew criticism from KMT Legislator Chiang Wan-an (蔣萬安), who said Chan was unable to tell right from wrong during the review, over which he presided.
"A robot with artificial intelligence could have presided over that meeting and cast the vote," Chiang said.
Chan should have delayed the review and conducted an analysis of whether the Shenao plant's output could be replaced by a cleaner source of energy, such as natural gas, Chiang said, adding that the review committee's passage of the upgrade project did not allay concerns over the plant threatening marine life in Shenao Harbor (深澳港).
Lee Ying-yuan said that the upgrade program would replace old power generation units with ultra-supercritical steam generators, which would reduce the plant's emissions by two-thirds.
The agency has achieved its goal of reducing the number of days on which the air quality triggers a nationwide "red alert" by 20 percent from 2016, he said.
Upgrading the Shenao plant would not affect the government's goal of capping coal-fired power generation at 30 percent while boosting the contribution from natural gas and renewable energy sources to 50 percent and 20 percent respectively in 2025, he added.
The government's efforts to improve air quality and the upgrade of the plant should be discussed in different contexts, Lee Ying-yuan said.
Comments will be moderated. Keep comments relevant to the article. Remarks containing abusive and obscene language, personal attacks of any kind or promotion will be removed and the user banned. Final decision will be at the discretion of the Taipei Times.