NPC abolishes presidential term limits
BALLOT: National People's Congress members voted 2,958 in favor of amending China's constitution, with two opposed, three abstaining and one vote invalidated
China's rubber-stamp lawmakers yesterday passed a historic constitutional amendment abolishing a presidential two-term limit that will enable Chinese President Xi Jinping (習近平) to rule indefinitely.
The amendment upends a system enacted by former Chinese leader Deng Xiaoping (鄧小平) in 1982 to prevent a return to the bloody excesses of a lifelong dictatorship typified by Mao Zedong's (毛澤東) chaotic Cultural Revolution.
"This marks the biggest regression in China's legal system since the reform and opening-up era of the 1980s," said Zhang Lifan (章立凡), an independent Beijing-based political commentator.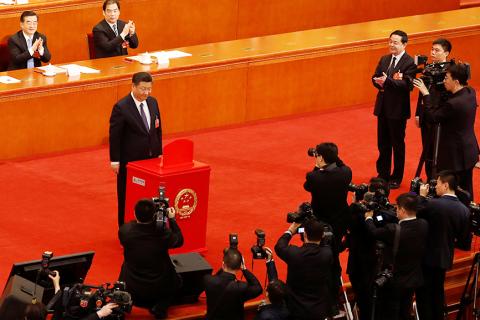 Chinese President Xi Jinping pauses after casting his ballot yesterday on a constitutional amendment ending presidential term limits at the Great Hall of the People in Beijing.
Photo: Reuters
"I'm afraid that this will all be written into our history in the future,"' Zhang said.
Voting by the National People's Congress' nearly 3,000 hand-picked delegates began in the mid-afternoon, with Xi leading members of the Chinese Communist Party's (CCP) seven-member all-powerful Politburo Standing Committee in casting their votes.
He placed his orange ballot paper in a red box bearing the official seal of state placed front and center on the stage inside the cavernous hall.
Rank-and-file deputies then rose to vote on the floor of the hall as jaunty instrumental music played.
Ten minutes later, the process had ended and delegates were asked to return to their seats while the votes were counted.
Shortly after 3:50pm, the results were read out over the public address system and flashed briefly on a screen in the hall. The delegates had voted 2,958 in favor, with two opposed, three abstaining and one vote invalidated.
The 64-year-old Xi appeared to show little emotion, remaining in his seat with other deputies to listen to a report on the work of the congress delivered by its chairman.
Officials have said the abolishment of the presidential term limits is aimed only at bringing the office of the president in line with Xi's other positions in the CCP and the Central Military Commission.
The package of amendments included major provisions to inscribe Xi's eponymous political mantra in the constitution, give the CCP an even larger role in the country's affairs and expand the president's anti-corruption campaign.
"Xi Jinping has presided over so many important projects such as economic reforms and the fight against corruption. There was a consensus that we supported him having more time to finish his work," said Dou Yanli, a delegate from Shandong Province.
Additional reporting by AFP
Comments will be moderated. Keep comments relevant to the article. Remarks containing abusive and obscene language, personal attacks of any kind or promotion will be removed and the user banned. Final decision will be at the discretion of the Taipei Times.