Cabinet blasts agency merger
The Executive Yuan yesterday criticized Beijing for reportedly planning to merge its office charged with cross-strait ties with the agency responsible for Hong Kong and Macau affairs, saying that it is yet another attempt to belittle Taiwan.
"Unlike Hong Kong and Macau, Taiwan is an independent, sovereign state, a fact that China has tried to undermine by putting the three together in the same sentence," Cabinet spokesman Hsu Kuo-yung (徐國勇) said in response to reporters' questions on the sidelines of a forum in Taipei.
The reported merger was Beijing's way of blatantly undercutting Taipei, Hsu said.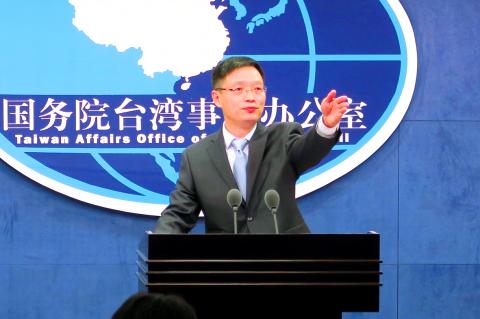 China's Taiwan Affairs Office spokesperson An Fengshan speaks at a news conference on Dec. 27 last year.
Photo: CNA
Citing an anonymous source, the Hong Kong-based Chinese-language newspaper Ming Pao on Friday reported that China's Hong Kong and Macau Affairs Office is to merge with China's Taiwan Affairs Office (TAO) as part of the Chinese State Council's proposed reorganization that is to cut the number of Cabinet-level departments from 25 to 19.
The report also said that the semi-governmental Association for Relations Across the Taiwan Straits is slated to be incorporated into a new association tasked with handling "overseas Chinese compatriots."
When reached by reporters yesterday, the Mainland Affairs Council — the TAO's Taiwanese counterpart — said it would not comment on the Chinese government's rearrangement, but would keep a close eye on it.
"We have noticed that there are various opinions and expectations regarding Hong Kong's future. The government has never intended to, nor will it ever actively intervene in Hong Kong's internal affairs," council Deputy Minister Chiu Chui-cheng (邱垂正) said.
It is the government's hope that various sectors of Hong Kong, its government and Beijing could seek a consensus on the territory's development rationally and peacefully, Chiu said.
Beijing has in recent years undergone several government organizational mergers and reforms in a bid to solve the problems of overlapping functions and poor cooperation between different branches, Chiu said.
The issue is expected to be discussed and finalized in the first session of the 13th National Committee of the Chinese People's Political Consultative Conference in Beijing tomorrow, he added.
Comments will be moderated. Keep comments relevant to the article. Remarks containing abusive and obscene language, personal attacks of any kind or promotion will be removed and the user banned. Final decision will be at the discretion of the Taipei Times.