Donald Trump calls for speedy changes to the US' gun laws
Putting fellow Republicans in the hot seat, US President Donald Trump on Wednesday called for speedy and substantial changes to the nation's gun laws, then criticized lawmakers in a White House meeting for being too fearful of the National Rifle Association (NRA) to take action.
In a freewheeling, televised session that stretched for an hour, Trump rejected both his party's incremental approach and its legislative strategy that has stalled action in the US Congress.
Giving hope to Democrats, he said he favored a "comprehensive" approach to addressing violence such as the shooting at a Florida high school last month, although he offered no specific details.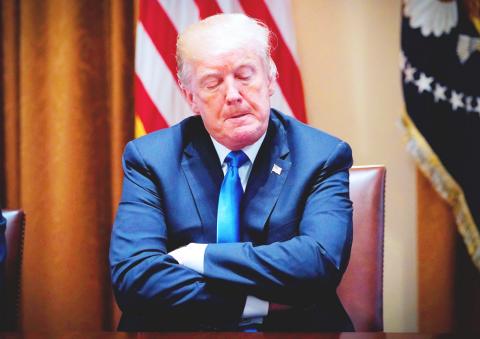 US President Donald Trump takes part in a meeting with bipartisan members of the US Congress on school and community safety in the Cabinet Room of the White House in Washington on Wednesday.
Photo: AFP
Instead, Trump again voiced his support for expanded background checks.
He endorsed increased school security and mental health resources, and he reaffirmed his support for raising the age to 21 for purchasing some firearms.
Trump also mentioned arming teachers and said his administration, not the US Congress, would use an executive order to ban bump-stock devices that enable guns to fire like automatic weapons.
"We can't wait and play games and nothing gets done," Trump said as he opened the session with 17 representatives and senators. "We want to stop the problems."
Trump also raised eyebrows by suggesting that law enforcement officials should be able to confiscate people's firearms without a court order to prevent potential tragedies.
"Take the guns first, go through due process second," he said.
The president has previously backed ideas popular with Democrats, only to back away when faced with opposition from his conservative base.
Still, the televised discussion allowed Trump to play the role of potential dealmaker, a favorite for the president.
Democratic lawmakers made a point of appealing to the president to use his political power to persuade his party to take action.
"It is going to have to be you," US Senator Chris Murphy told Trump.
Trump's call for stronger background checks, which are popular among Americans, has been resisted by Republicans and the NRA.
Trump made it clear he was looking for more and accused lawmakers of being "petrified" of the gun lobby.
"Hey, I'm the biggest fan of the Second Amendment," Trump said, adding that he told NRA officials it is time to act. "We have to stop this nonsense."
The White House meeting came amid fresh public debate over gun laws, fueled by student survivors of the massacre at Florida's Marjory Stoneman Douglas High School.
The school reopened on Wednesday for the first time since a Valentine's Day assault killed 17.
Democrats said they were concerned Trump's interest might fade quickly.
"I'm worried that this was the beginning and the end of the president's advocacy on this issue," Murphy told reporters after the meeting. "The White House has to put some meat on the bones. The White House has to send a proposal to Congress."
Comments will be moderated. Keep comments relevant to the article. Remarks containing abusive and obscene language, personal attacks of any kind or promotion will be removed and the user banned. Final decision will be at the discretion of the Taipei Times.