Awkward diplomacy on show as 'peace' Games begin
The Pyeongchang Winter Olympics in South Korea yesterday sparked to life in a vivid, colorful ceremony of fire and ice, although the diplomacy was tougher to choreograph in the stadium where leaders from nations that are sworn enemies sat close together.
South Korea, which is using the Games to break the ice with North Korea, seated its presidential couple alongside US Vice President Mike Pence and his wife, with two of the North's most senior officials sitting in the row behind.
South Korean President Moon Jae-in, who wants to harness the Olympic spirit to pave the way for talks over the North's nuclear and missile program, warmly shook hands with North Korean leader Kim Jong-un's smiling sister as well as the North's nominal head of state.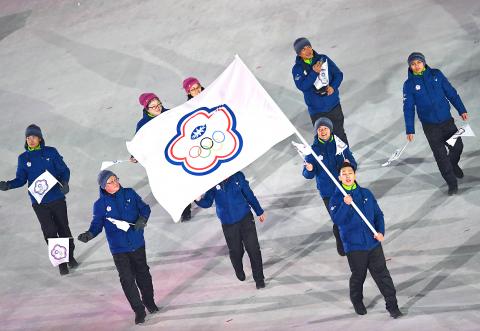 Taiwanese flag bearer Lien Te-an marches with Taiwanese athletes and officials in the Parade of Nations at the Opening Ceremony of the Pyeongchang Winter Olympics at the Pyeongchang Olympic Stadium in South Korea yesterday.
Photo: EPA
The South is still technically at war with the North after the 1950 to 1953 Korean War ended in a truce, and the US and North Korea have recently swapped nuclear threats.
Pence vowed this week to tighten sanctions on the North.
Underlining Moon's efforts to re-engage with the North, the opening ceremony followed the story line of children wandering through a mythical landscape and discovering a world where people live in peace and harmony.
The Olympics have provided some respite from years of tense relations between Seoul and Pyongyang, though just hours before the ceremony hundreds of protesters opposing North Korea scuffled with riot police outside the Pyeongchang Olympic Stadium, burning North Korean flags and pictures of Kim.
Temperatures plummeted to minus-20?C last night — a shock to the system for athletes and visitors alike in the lead-up to the Games, prompting concerns about hypothermia at the opening ceremony.
According to Olympic tradition, the Greek contingent headed the parade into the open-air stadium, followed by the other delegations in order according to the Korean alphabet.
Pence stood to welcome the US athletes as the Korean pop hit Gangnam Style blared around the stadium, sparking the "horse dance" in the crowd and among the volunteers.
Elsewhere in the stadium, a Kim impersonator was not made as welcome as the North Koreans in the VIP box and was ejected by security.
"Well, is my sister getting the same treatment?" he said.
Comments will be moderated. Keep comments relevant to the article. Remarks containing abusive and obscene language, personal attacks of any kind or promotion will be removed and the user banned. Final decision will be at the discretion of the Taipei Times.