League to sue government over freezing of its assets
The embattled National Women's League yesterday said it would file a lawsuit against the government next week over a decision to freeze the league's assets and impose other penalties due to its affiliation with the Chinese Nationalist Party (KMT).
League chairwoman Joanna Lei (雷倩) said her job now is to safeguard the legal rights of league members, who are to be under investigation soon, and make sure that the league continues to operate normally, despite having its assets frozen.
The Cabinet's Ill-gotten Party Assets Settlement Committee on Thursday determined that the league was an affiliated organization of the KMT, which is under investigation over its ill-gotten assets.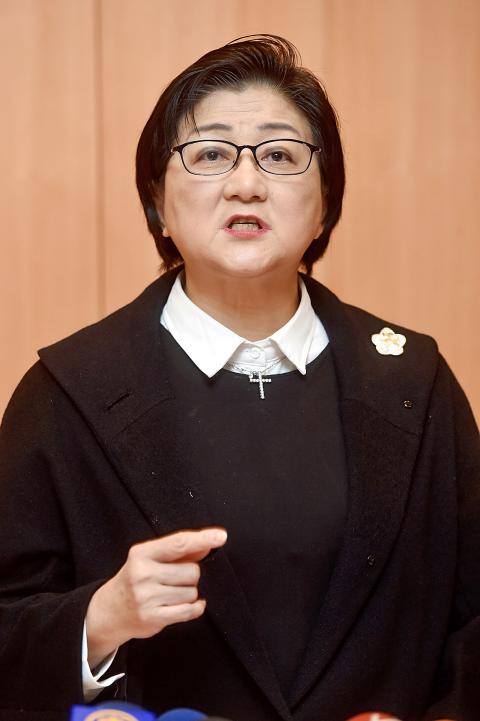 National Women's League chairwoman Joanna Lei speaks at a news conference in Taipei on Thursday, saying the league is not an affiliated organization of the Chinese Nationalist Party (KMT).
Photo: Chien Jung-fong, Taipei Times
The committee froze all of the league's assets, including NT$38.5 billion (US$1.32 billion) in cash, after the league reneged on a memorandum of understanding with the government to donate 90 percent of its assets to the state coffers and submit to public oversight.
The terms of the agreement, which Lei signed in December last year with the Ministry of the Interior and the settlement committee, were on Wednesday overturned by the league's members representatives in a 31-28 vote.
The league on Thursday said it would go to court to challenge the government's efforts to seize its assets, and Lei yesterday confirmed that the league is to next week file a lawsuit against the committee.
Lei said most of the league's NT$30.2 billion in assets are being held at Land Bank of Taiwan (土地銀行) as the league has since August last year been moving its money into a single account, because it was considering signing the agreement with the government and donating its money.
However, the government has since then been keeping close tabs on the league's account at Land Bank and has been asking the league for the reason behind every withdrawal and deposit, she said.
The league is also preparing to elect a new standing committee.
The election is to take place after the Lantern Festival, which is to be observed on March 2, said Lei, who does not plan to run for a seat on the committee.
Comments will be moderated. Keep comments relevant to the article. Remarks containing abusive and obscene language, personal attacks of any kind or promotion will be removed and the user banned. Final decision will be at the discretion of the Taipei Times.