Trump releases memo on FBI, alleging partisanship
STUNT: Democrats and some Republicans shrugged off the document as an attempt to undermine the ongoing probe into the Trump campaign's alleged links to Russia
US President Donald Trump and his Republican allies on Friday unleashed a controversial memo accusing the FBI of bias and abuse of power, intensifying a high-stakes fight between the White House and prosecutors investigating the US president's campaign team.
Trump defied his own FBI director and the US Department of Justice to declassify the four-page Republican document, which implies malfeasance and partisanship at the very top of US law enforcement.
"I think it's a disgrace. What's going on in this country, I think it's a disgrace," a visibly tense Trump said as he announced his decision to release the memo. "A lot of people should be ashamed of themselves and much worse than that."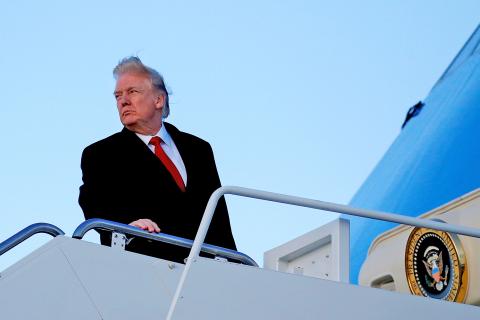 US President Donald Trump boards Air Force One at Joint Base Andrews, Maryland, on Friday.
Photo: Reuters
Democrats and some Republicans have cried foul over the document, dismissing its release as little more than a stunt and another thinly veiled effort to undermine the investigation into the Trump campaign's ties with Russia.
They said the document — drafted by Devin Nunes, a Trump transition official, US representative and the US House of Representatives Intelligence Committee chairman — has glaring holes.
The FBI itself said it had "grave concerns" over its accuracy.
Democrat-funded research prompted the FBI to spy on a former Trump campaign aide, Carter Page, the memo says.
In a subsequent statement, White House press secretary Sarah Huckabee Sanders said that the document "raises serious concerns about the integrity of decisions made at the highest levels of the Department of Justice and the FBI."
Trump's oldest son Donald Trump Jr tweeted that it should be "game over" for the Russia investigation.
Trump's one-year-old presidency has been dominated by allegations that multiple aides, including Donald Trump Jr and his son-in-law Jared Kushner, might have coordinated with the Kremlin to defeat Democratic candidate Hillary Rodham Clinton.
Special counsel Robert Mueller has already indicted two officials, including Trump campaign chairman Paul Manafort, and two more campaign officials have admitted lying to investigators — including one-time national security adviser Michael Flynn.
The US president has decried the allegations as fake news and a Democratic plot.
Mueller is soon expected to ask him to testify under oath about what he knows.
The memo's release sent shockwaves across Washington, calling into question the future of Trump's handpicked FBI Director Christopher Wray.
However, he shrugged off attacks on the FBI's independence and pledged to defend his agents in an internal letter sent to staff on Friday and obtained by reporters.
"Talk is cheap; the work you do is what will endure," Wray wrote. "Let me be clear: I stand fully committed to our mission... I stand with you."
The FBI had previously issued an extraordinary public warning against the memo's release, saying it contained "material omissions of fact that fundamentally impact the memo's accuracy."
Comments will be moderated. Keep comments relevant to the article. Remarks containing abusive and obscene language, personal attacks of any kind or promotion will be removed and the user banned. Final decision will be at the discretion of the Taipei Times.