Fidel Castro's eldest son 'Fidelito' commits suicide
The eldest son of late Cuban president Fidel Castro, Fidel Castro Diaz-Balart, on Thursday committed suicide aged 68 after being treated for months for depression, Cuban state-run media reported.
Castro Diaz-Balart, also known as "Fidelito," or Little Fidel, because of how much he looked like his father, had initially been hospitalized for depression and then continued treatment as an outpatient.
"Castro Diaz-Balart, who had been attended by a group of doctors for several months due to a state of profound depression, committed suicide this morning," the Cubadebate Web site said.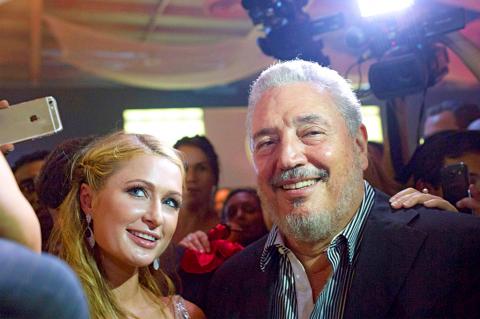 Fidel Castro Diaz-Balart, son of late Cuban president Fidel Castro, poses with Paris Hilton as she takes a selfie during the gala dinner at the XVII Habanos Festival in Havana, Cuba, on Feb. 27, 2015.
Photo: Reuters
Fidelito was born in 1949 out of his father's brief marriage to Mirta Diaz-Balart before he went on to topple a US-backed dictator and build a communist-run state on the doorstep of the US during the Cold War.
Through his mother, he was the cousin of some of Castro's most bitter enemies in the Cuban American exile community, US Representative Mario Diaz-Balart and former US representative Lincoln Diaz-Balart.
He was also the subject of a dramatic custody dispute between the two families as a child.
Cuban academics say his mother took him with her to the US when he was aged five after announcing she wanted a divorce from Castro, while he was imprisoned for an attack on the Moncada military barracks in Santiago.
Castro was able to take Fidelito back to Cuba after the 1959 revolution.
A nuclear physicist who studied in the former Soviet Union, Fidelito had been working as a scientific counselor to the Cuban Council of State and vice president of the Cuban Academy of Sciences at the time of his death.
Comments will be moderated. Keep comments relevant to the article. Remarks containing abusive and obscene language, personal attacks of any kind or promotion will be removed and the user banned. Final decision will be at the discretion of the Taipei Times.