Yang Chin-long set to succeed Perng Fai-nan
FAITHFUL SERVANT: The 64-year-old banker earned his doctorate in economics at University of Birmingham and has devoted his whole career to the central bank
Central bank Deputy Governor Yang Chin-long (楊金龍) is to succeed bank Governor Perng Fai-nan (彭淮南) as the nation's top monetary policymaker at the end of the month, the Cabinet announced yesterday.
Premier William Lai (賴清德) has approved the appointment and Yang's replacement is to be announced by Yang, Cabinet spokesman Hsu Kuo-yung (徐國勇) said.
Perng, a world-renowned economist who received an "A" grade from New York-based Global Finance magazine for a record 14th year last year, has made a great contribution to Taiwan since his appointment in 1998, Hsu said.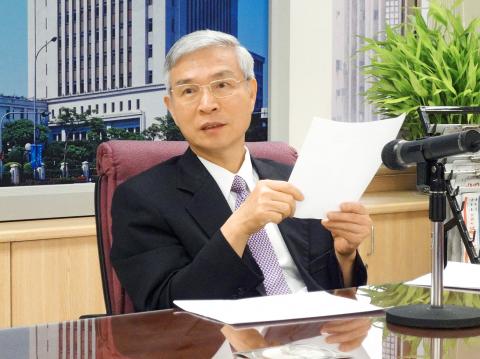 Central bank Deputy Governor Yang Chin-long is pictured in his office in Taipei yesterday.
Photo: Lu Kuan-cheng, Taipei Times
Yang is to take over on Feb. 24 when Perng retires, Hsu said.
Yang's appointment came as no surprise as he is experienced in the central bank's duties and operations, and would help the government keep its financial policy on track.
Yang, 64, earned his doctorate in economics from the University of Birmingham in 1989 and has devoted his whole career to the central bank.
He has served in the bank's research, foreign exchange and banking departments, and was the representative in its London office before becoming deputy governor in 2008.
Yang has been a close aide to Perng since he joined the bank and he helped establish its real-time gross settlement system, a large-sum electronic payment transaction system that is the bedrock of its operations.
The system helped avert collateral damage that could have occurred after now-defunct Rebar Asia Pacific Group's (力霸企業集團) attempted multibillion embezzlement in 2007.
In related news, the Executive Yuan disputed reports of a Cabinet reshuffle at the Lunar New Year.
According to a report by the Chinese-language United Daily News, several ministers are to be replaced by current or former aides to Kaohsiung Mayor Chen Chu (陳菊).
Minister of Education Pan Wen-chung (潘文忠) was reported to be replaced by Kaohsiung Education Bureau Director-General Fan Sun-lu (范巽綠); Minister of Foreign Affairs David Lee (李大維) by Representative to the US Stanley Kao (高碩泰); and Minister of Labor Lin Mei-chu (林美珠) by Deputy Minister of Labor Su Li-chung (蘇麗瓊), a former Kaohsiung City Government deputy secretary-general.
Minister of the Interior Yeh Jiunn-rong (葉俊榮) was also reported to be stepping down.
Newly inaugurated Cabinet deputy spokesman Ting Yun-kung (丁允恭), a former Kaohsiung Information Bureau director, was also reported to be succeeding Hsu if he was nominated for the Taipei mayoral election at the end of this year.
However, Hsu disputed the report.
"There is no such reshuffle planned," Hsu said.
Hsu also denied speculation that the premier would run in the mayoral election of either Taipei or New Taipei City, saying that the premier's priority is to revive the economy and improve national development.
Comments will be moderated. Keep comments relevant to the article. Remarks containing abusive and obscene language, personal attacks of any kind or promotion will be removed and the user banned. Final decision will be at the discretion of the Taipei Times.