Taiwan's Liang En-shuo wins girls' singles crown
'TRULY INCREDIBLE': The 17-year-old had surpassed records set by the nation's other players by advancing to the final and is the first to win the junior championship
Taiwan's Liang En-shuo (梁恩碩) yesterday won the girls' singles title at the Australian Open, while Tseng Chun-hsin (曾俊欣) finished runner-up in the boys' singles.
Liang defeated France's Clara Burel 6-3, 6-4 in the final.
It was her 18th consecutive singles victory.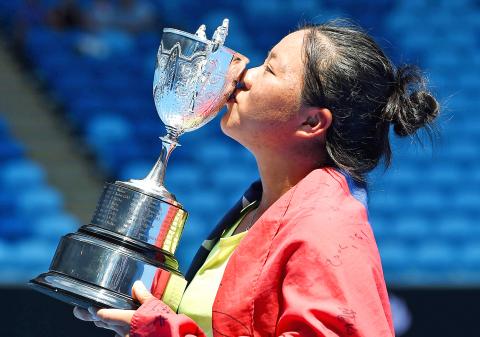 Taiwan's Liang En-shuo kisses the winner's trophy after defeating France's Clara Burel in the Australian Open girls' singles final in Melbourne yesterday.
Photo: AFP
Liang's coach, Chan Chin-wei (詹謹瑋), said her performance was "truly incredible," as Liang had previously played only four Grand Slam junior matches — two at Wimbledon and two at the US Open — and had gotten no further than the quarter-finals.
Chan praised Liang for her tenacity and fighting spirit, saying that she had to rally to win her first-round match and quarter-final in Melbourne.
At 1.58m and 66kg, Liang's development as a professional tennis player has often been questioned, but Chan would have none of it, saying: "She is an aggressive player. Her serves are fast and heavy, and that works to her advantage. Even if her physique is not great, it should not affect her performance on the court."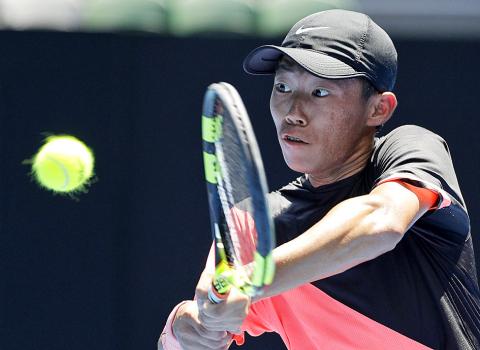 Taiwan's Tseng Chun-hsin makes a backhand return to United States' Sebastian Korda during the boys' singles final at the Australian Open tennis championships in Melbourne yesterday.
Photo: AP
Liang is able to keep calm under pressure, Chan said, adding that this was one of her strong suits.
"Without the support of my mother and my coach, I wouldn't have been able to make it to where I am today," Liang said in English.
"I want to thank my family and friends in Taiwan who have supported me, and I will continue to strive to be better," she added in Chinese.
By advancing to the final, Liang had already surpassed all previous records set by Taiwanese players and has become the first to win a title in the Grand Slam's junior competition.
Ranked seventh in the world at the end of last year, 17-year-old Liang's title triumph was retribution for her doubles partner, China's Wang Xinyu (王欣瑜), the top seed, who was upset by Burel 2-6, 6-1, 6-0 in the singles semi-finals.
The French 16-year-old had eliminated three seeded opponents in her march to the final.
Burel had two break points, but could not convert them to square the second set against Liang. The title was Liang's when Burel blasted a forehand over the baseline.
Liang and Wang yesterday beat Papua New Guinea's Violet Apisah and Switzerland's Lulu Sun (孫璐璐) 7-6 (7/4), 4-6, 10-5 in the girls' doubles final.
In the boys' singles, 16-year-old Tseng lost to the US' Sebastian Korda — son of 1998 Australian Open men's champion Petr Korda — 7-6 (7/5), 6-4 in the final.
Additional reporting by AP
Comments will be moderated. Keep comments relevant to the article. Remarks containing abusive and obscene language, personal attacks of any kind or promotion will be removed and the user banned. Final decision will be at the discretion of the Taipei Times.