SEF offers China-Taiwan travel options for holiday
The Straits Exchange Foundation (SEF) yesterday offered China-based Taiwanese businesspeople several alternative travel options for those traveling to Taiwan during the Lunar New Year holiday, as complaints mounted in the face of the government's stalled approval of additional cross-strait flights by Chinese airlines.
"To ensure our nationals' return to Taiwan for the holiday, we are offering alternatives while approval for 176 additional flights is pending," Straits Exchange Foundation Deputy Secretary-General Kuan An-lu (管安露) told a news conference in Taipei.
About 30,000 people have booked the additional flights, of which 106 were applied for by China Eastern Airlines Corp (中國東方航空) and 70 by XiamenAir (廈門航空), Kuan said.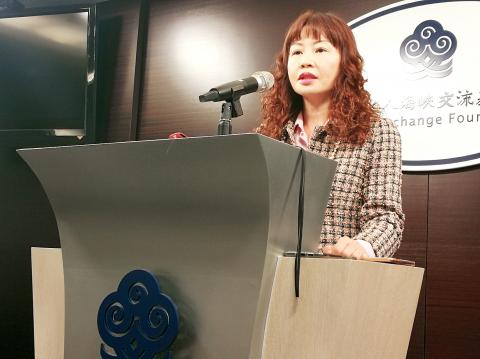 Straits Exchange Foundation Deputy Secretary-General Kuan An-lu yesterday comments on Taiwan's decision to withhold approval for two Chinese airlines to operate extra cross-strait flights over the Lunar New Year at a news conference in Taipei.
Photo: CNA
The stalled approval is in response to Beijing's Jan. 4 unilateral activation of four aviation routes over the Taiwan Strait which Taipei said could gravely threaten aviation safety.
"We urge these people to book other flights," Kuan said.
Another option is to fly to Taiwan from an airport near the eight points of departure expected to be affected by the stalled approval, Kuan said.
The government is also negotiating with EVA Air Corp (長榮航空) and China Airlines (CAL, 華航) to increase flights for the holiday period, or use larger aircraft on existing flights, Kuan said.
"Both airlines have responded positively to the proposals," Kuan said.
However, any additional flights offered by Taiwanese airlines would require approval from Beijing, Kuan said.
The government has also held talks with airlines offering flights between Taiwan and Hong Kong, and Taiwan and Macau over the possibility of increasing the number of flights during the holiday to meet the potential demand of people traveling from China and transferring in either place on their way to Taiwan, Kuan said.
"We are also communicating with agencies about offering additional boat trips for those traveling via the 'three mini links' to Kinmen and Matsu," Kuan said, adding that the Ministry of National Defense is willing to offer assistance with transportation if necessary.
Comments will be moderated. Keep comments relevant to the article. Remarks containing abusive and obscene language, personal attacks of any kind or promotion will be removed and the user banned. Final decision will be at the discretion of the Taipei Times.