Countermeasures to Holy See-China relations urged
Lawmakers across party lines yesterday called on the government to come up with response measures after the Vatican reportedly made concessions to China on the appointment of bishops — a significant breakthrough for advancing mutual relations between the two.
The Holy See has asked two Chinese bishops it appointed to stand aside to make way for Beijing-backed counterparts as part of a deal with the Chinese government, Asia News, the official outlet of the Pontifical Institute for Foreign Missions, said on Tuesday.
The Holy See has sent a delegation to China that asked the two bishops to hand over their dioceses to bishops appointed by Beijing, the report said.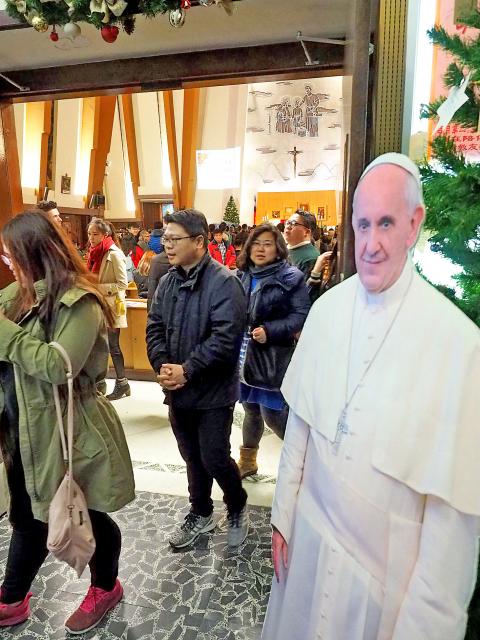 Taiwanese walk past a cardboard cutout of Pope Francis in the Catholic Holy Family Church after celebrating Midnight Mass on Christmas Eve in Taipei, Dec. 25, 2017.
Photo: EPA-EFE/ David Chang
If China and the Vatican have reached a consensus on such appointments, it should serve as a warning to Taiwan, Democratic Progressive Party Legislator Lo Chih-cheng (羅致政) said.
Asked whether the move could create a domino effect with Taiwan's diplomatic allies with large Catholic populations, Lo said it would not necessarily create a chain reaction, but could affect Taiwan's relations with those allies.
The consensus could be a diplomatic crisis for Taiwan, Chinese Nationalist Party (KMT) Legislator Lee Yen-hsiu (李彥秀) said.
New Power Party Legislator Freddy Lim (林昶佐) encouraged the Vatican to pursue dual recognition of the governments on either side of the Taiwan Strait by maintaining diplomatic ties with Taiwan, while protecting the rights of Catholics in China.
The Ministry of Foreign Affairs must watch out for a potential diplomatic setback if the Holy See switches its diplomatic recognition to China, People First Party Legislator Chen Yi-chieh (陳怡潔) said.
The Vatican is the only European state among Taiwan's 20 diplomatic allies.
Comments will be moderated. Keep comments relevant to the article. Remarks containing abusive and obscene language, personal attacks of any kind or promotion will be removed and the user banned. Final decision will be at the discretion of the Taipei Times.