Trump marks first year in Oval Office amid shutdown
US President Donald Trump yesterday marked the first anniversary of his inauguration with his government in shutdown, accusing Democrats of taking Americans hostage with their demands.
From midnight yesterday, in the absence of an agreed spending plan, federal services began to come to a halt or be scaled back, even as lawmakers continued to argue on the floor of the US Senate.
Essential services and military activity will continue, but many public-sector workers will be sent home without wages and even serving soldiers will not be paid until a deal is reached to reopen the US government.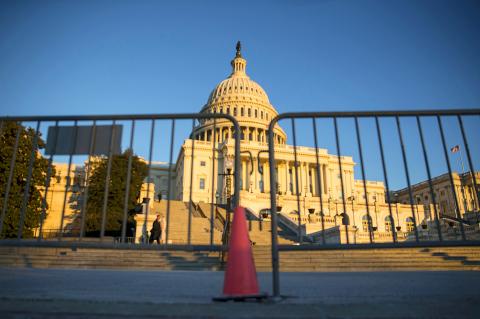 The US Capitol is pictured in Washington on Friday.
Photo: EPA
During a stopover in Shannon Airport in Ireland ahead of a three-country tour of the Middle East, US Vice President Mike Pence met with US troops in transit to overseas assignments and said they had brought up the shutdown.
"You have troops headed down range to Kuwait for six months and they are anxious about the fact that they aren't going to get paid right away," he told reporters. "It's unconscionable."
A deal had appeared likely on Friday, when Trump seemed to be close to an agreement with Democratic Senate minority leader Chuck Schumer on a measure to prevent the expulsion of undocumented migrants who arrived in the country as children.
However, no such compromise was in the language that reached the US Congress for a stop-gap motion to keep the government open for four more weeks while a final arrangement is discussed — and Republicans failed to win enough Democratic support to bring it to a vote.
The White House lashed out at Schumer, blaming him for the shutdown.
Schumer fought back, blaming Trump for leading him to believe a deal was possible on the immigration dispute, but then failing to bring his own party along.
"Every American knows the Republican Party controls [the] White House, the Senate, the House — it is their job to keep the government open. It is their job to work with us to move forward," Schumer told the Senate, after the 50-49 vote.
Comments will be moderated. Keep comments relevant to the article. Remarks containing abusive and obscene language, personal attacks of any kind or promotion will be removed and the user banned. Final decision will be at the discretion of the Taipei Times.