Government help needed to reduce dust along Jhuoshuei River: Premier Lai
Government efforts are needed to reduce dust along the Jhuoshuei River (濁水溪), Premier William Lai (賴清德) said yesterday.
Lai made the remarks during a visit to Yunlin County's Lunbei Township (崙背), where he inspected a project to reduce fugitive dust — fine airborne dust — along the south bank of the river.
He was accompanied by Yunlin Commissioner Lee Ching-yung (李進勇) and Democratic Progressive Party Legislator Liu Chien-kuo (劉建國).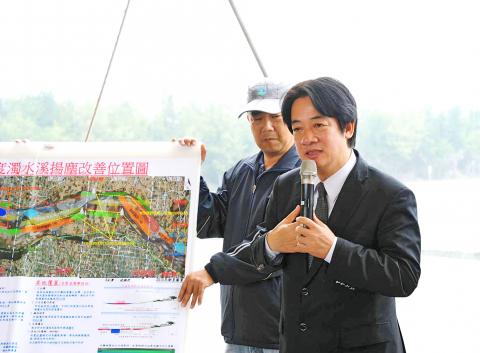 Premier William Lai speaks during an inspection of a project aimed at eliminating dust at the Jhuoshuei River in Yunlin County yesterday.
Photo: CNA
Environmental Protection Administration Minister Lee Ying-yuan (李應元) has included the project in the agency's efforts to combat air pollution nationwide, Lai said.
Likening efforts to combat fugitive dust to medical treatment, Lai urged specialists to identify the "pathogen" — the source of fugitive dust — so that they could give the right "prescription," whether they be environmental cover methods or other cover methods.
Fugitive dust is a serious problem for Yunlin that has lasted more than a century, and the Executive Yuan has created an interdepartmental task force led by Minister Without Portfolio Wu Tze-cheng (吳澤成) to tackle the issue, Lai said.
Lai also called for a systematic plan to be drawn up after conducting surveys along the river to identify sections prone to dusting.
Responsible agencies should explain to Yunlin residents how and when they will tackle the issue, as well as to what extent fugitive dust can be reduced, he said.
As the Cabinet has designated the project to reduce fugitive dust as a special project, the bottom line is to come up with a clear blueprint, he said, adding that cost will not be of concern for the Executive Yuan.
It would be "impossible" for the river to be remediated without government help, just like providing citywide tap water supplies and the relocation of Dalinpu (大林埔) villagers in Kaohsiung due to alarming levels of air pollution could not have been accomplished without the use of national resources, Lai said.
He suggested establishing a remediation task force between the central government and the Yunlin County Government to streamline efforts to combat fugitive dust, adding that the issue requires step-by-step remedying and could not be solved overnight.
Fugitive dust is aggravated every winter to the point that Yunlin residents are resigned to "eat rice mixed with sand," which has been a major source of public complaints, Lee said.
The problem has become more severe, possibly due to torrential rain in June last year changing the outline of the river's canal, which moved barren dust-prone sections to the middle and downstream of the river, he added.
Comments will be moderated. Keep comments relevant to the article. Remarks containing abusive and obscene language, personal attacks of any kind or promotion will be removed and the user banned. Final decision will be at the discretion of the Taipei Times.