Beijing jails 44 Taiwanese for fraud
DOUBLE TROUBLE: One lawmaker said the situation poses a dilemma for local authorities, who might have to punish Taiwanese after they serve their term in China
A court in Beijing yesterday sentenced 44 Taiwanese extradited from Kenya to China to jail terms of up to 15 years for telecom fraud.
The 44 were among a total of 85 people who stood trial at the Beijing No. 2 Intermediate People's Court from July 18 to July 20 in the cross-border telecom fraud case. They were arrested in Kenya and deported to China in April last year.
The verdict was announced in three phases, with the first involving the sentencing of 33 suspects, including 13 Taiwanese.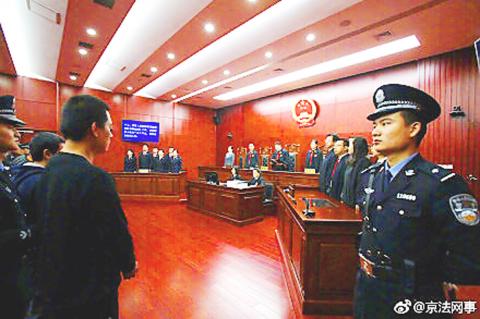 A Taiwanese man, left, arrested in Kenya and deported to China last year for allegedly committing telecom fraud, stands trial at the Beijing No. 2 Intermediate People's Court yesterday.
Screen grab from the Weibo account of the Beijing No. 2 Intermediate People's Court
The court found the 33 guilty of carrying out fraud in Indonesia and Kenya, with 26 determined to be principals in the case and the other seven as accomplices.
The court identified Taiwanese Chang Kai-min (張凱閔) as a key manager of the criminal ring, which defrauded 75 victims in China out of more than 23.1 million yuan (US$3.51 million at the current exchange rate) over five months.
Another Taiwanese, Lin Chin-te (林金德), was identified as a manager of the organization.
Chang and Lin were each sentenced to 15-year jail terms, deprivation of their political rights for three years and fines of 15,000 yuan.
The other principal suspects received jail terms of at least 10 years, while the accomplices were given terms of at least two years.
Those convicted can appeal within two to 10 days after receiving the verdicts.
In the second phase, 17 suspects, including nine Taiwanese, received jail terms ranging from 21 months to three years, plus fines.
In the third phase, 35 suspects, including 22 Taiwanese, were sentenced to between three and 13 years behind bars, along with fines and deprivation of their political rights.
Since April last year, a total of 288 Taiwanese have been deported to China from various countries — including Kenya, Malaysia, Cambodia, Armenia, Vietnam and Indonesia — for alleged telecom fraud targeting people in China, Mainland Affairs Council data showed.
Meanwhile, 427 Taiwanese suspected of cross-border telecom fraud have been sent back to Taiwan in that period.
Following the sentencing, the council said Taiwan and China had initially agreed to cooperate in investigating the Kenya case, but China had gone back on its word.
The international community will only believe justice has been served if all the evidence is fully considered and the case follows proper legal procedure, the council added.
"We have obtained intelligence on the suspects behind the scenes," the council said. "We again call on China to cooperate with our public security organs, investigate the origins of the crimes and not allow the masterminds behind the scenes to get away with it."
Lawmakers attributed the situation to the mothballed Cross-Strait Joint Crime-Fighting and Judicial Mutual Assistance Agreement (海峽兩岸共同打擊犯罪及司法互助協議) and strong public antipathy toward telecom fraud. Beijing suspended its implementation of the agreement when President Tsai Ing-wen (蔡英文) took office in May last year.
Democratic Progressive Party (DPP) Legislator Luo Chih-cheng (羅致政) said it would have a strong impact on cross-strait relations if China trying and convicting Taiwanese suspects becomes the norm, as that would mean all Taiwanese suspected of committing crimes overseas would have to stand trial in China.
When these suspects return to Taiwan after finishing their prison term in China, they could be subject to punishment handed down by a local court of law, Luo said.
This would pose a dilemma to local authorities, as the judicial system might have to mete out further punishment, despite the principle that a convict should not be punished twice for the same crime, Luo said, adding that otherwise it would mean that the nation's judiciary has deferred to China's adjudication.
Beijing could have a political agenda behind its pressuring of Kenya to extradite the Taiwanese suspects, he said.
"Society in general hates fraud like the plague. China's severe punishments might even win applause from some Taiwanese," Luo said.
He urged the council and the Ministry of Foreign Affairs to redouble efforts to repatriate the suspects.
DPP Legislator Huang Wei-che (黃偉哲) said that Taiwanese fraudsters should be handled by Taiwan.
"Granted, fraud cases are a source of public outrage and people still feel that harsher penalties stipulated in the Criminal Code and the Organized Crime Prevention Act (組織犯罪防制條例) are too lenient," Huang said.
Lawmakers should push for further amendments to increase penalties for fraud, he said.
Chinese Nationalist Party (KMT) caucus secretary-general Lin Wei-chou (林為洲) said China's convictions and punishments do not address the root cause of fraud and do not help to deter it, as like all cross-border crimes, it cannot be effectively curbed without the exchange of information.
The Tsai administration should work out a solution with China to resume the agreement, as it would be hard to avoid such incidents if the agreement is not enforced, he said.
"Tsai, as the president, has a responsibility to resume cross-strait dialogue," he added.
Comments will be moderated. Keep comments relevant to the article. Remarks containing abusive and obscene language, personal attacks of any kind or promotion will be removed and the user banned. Final decision will be at the discretion of the Taipei Times.