Ramaphosa faces new battles as ANC head
South African Deputy President Cyril Ramaphosa faces wide-
ranging challenges after being elected to lead South Africa's ruling party as it grapples with corruption allegations and disunity.
He narrowly won the vote on Monday to become head of the African National Congress (ANC) after a bruising race that exposed rifts within the organization that led the fight against apartheid.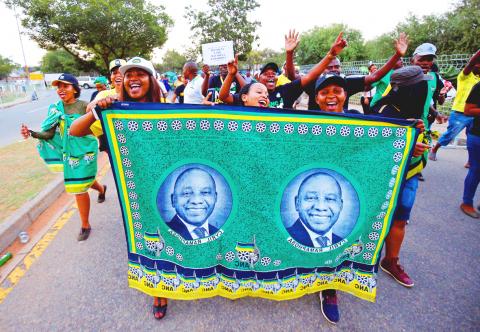 Supporters celebrate Cyril Ramaphosa being elected president of the African National Congress at the gates of the Nasrec Expo Center, where the 54th National Conference of the ruling party takes place, in Johannesburg, South Africa, on Monday.
Photo: Reuters
Thousands of Ramaphosa supporters sang and chanted in the conference hall, as rival backers of defeated candidate Nkosazana Dlamini-Zuma appeared dejected.
The victory puts Ramaphosa in line to succeed South African President Jacob Zuma, whose reign has been plagued by corruption scandals, a slowing economy and anger at the once-omnipotent ANC.
Zuma, who faces prosecution for alleged fraud, is predicted to step down as president next year after ruling since 2009.
"He is unlikely to hold out until the end of his term ... as this will damage the party ahead of the 2019 election," political risk consultancy Eurasia said.
"Zuma is thus likely to end his tenure sometime in the second half of 2018," it said.
Ramaphosa is set to enjoy a brief honeymoon period — the rand rose 4 percent against the US dollar, suggesting investor confidence in the wealthy former businessman, before pairing gains.
However, he still faces unenviable challenges on public sector cuts to control the ballooning budget and how to battle Zuma-era corruption.
Political analyst Richard Calland warned that Ramaphosa would be constrained by allies of Zuma who were also elected into top ANC positions on Monday's vote.
"The winner has inherited a mixed blessing, possibly a poisoned chalice," Calland said.
"It's going to be very difficult for him to maneuver; he'll have to reach compromise at every step," he said.
A vast image of the ANC's new leader was unfurled as long applause and loud singing greeted the election result at the party conference venue outside Johannesburg.
Outside the hall, ANC supporters blocked a road leading to the conference center, dancing and singing party songs.
Ramaphosa is due to make his first speech as leader today as the conference draws to a close.
Zuma was seen as backing the campaign of Dlamini-Zuma, his former wife, allegedly to try to secure protection from prosecution after he leaves office.
The ANC, which has ruled since 1994 when Nelson Mandela won the first multiracial vote, could struggle to retain its grip on power in the 2019 election due to falling public support.
"I hope you will cooperate with the new leadership ... as we move to the 2019 elections," outgoing ANC Chairwoman Baleka Mbete told nearly 5,000 delegates who voted for the new ANC leadership.
Ramaphosa, 65, is a former trade unionist leader who led talks to end white-minority rule in the early 1990s and then became a multimillionaire businessman before returning to politics.
He is often accused of failing to confront Zuma while serving as his deputy since 2014.
Comments will be moderated. Keep comments relevant to the article. Remarks containing abusive and obscene language, personal attacks of any kind or promotion will be removed and the user banned. Final decision will be at the discretion of the Taipei Times.