Army commissions Black Hawk team
SECURITY SHIELD: The team comprises of 26 helicopters and will be trained to master aviation and maintenance skills to bolster the army's combat capabilities, the army said
The army yesterday officially commissioned its UH-60M Black Hawk combat team after verifying the fleet's initial combat capability.
The team from the 602nd Air Cavalry Brigade under the Aviation and Special Forces Command has 26 Black Hawk utility helicopters that the army bought from the US.
The helicopters are known for their adaptability to different combat environments and are capable of conducting airstrikes, carrying out logistics and rescue missions, and conducting airborne command operations, the army said in a statement.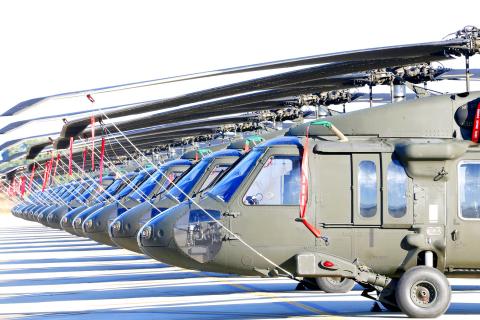 UH-60M Black Hawk utility helicopters purchased from the US for the army are lined up at the official commissioning ceremony held at the 602nd Air Cavalry Brigade in Taoyuan yesterday.
Photo: CNA, courtesy of the Military News Agency
The team will be trained to master aviation and maintenance skills to bolster the army's combat capabilities, and it forms a powerful security shield in the Taiwan Strait, the army said.
The 26 helicopters are among 60 Black Hawk helicopters ordered by the army at a cost of US$84.67 billion to replace its aging UH-1H Huey utility helicopters.
The army said it has taken delivery of 32 of helicopters so far, with six going to the National Airborne Service Corps.
Former president Ma Ying-jeou (馬英九) designated 15 of the advanced helicopters for the corps when he was in office.
The remaining 28 helicopters are to be delivered in partial shipments by 2020, the army said, with some of them expected to go to the air force.
Minister of National Defense Feng Shih-kuan (馮世寬) last year said that 15 Black Hawks would be given to the air force to replace S-70C helicopters that have been in service for 30 years.
Comments will be moderated. Keep comments relevant to the article. Remarks containing abusive and obscene language, personal attacks of any kind or promotion will be removed and the user banned. Final decision will be at the discretion of the Taipei Times.