Tim Cook says Internet must have security, humanity
CHINESE VIEW: Politburo member Wang Huning delivered an address in lieu of the Chinese president that called for controllable security and a new cyberspace order
Apple chief executive officer Tim Cook made his first appearance at China's World Internet Conference, using the surprise keynote to call for future Internet and artificial intelligence (AI) technologies to be infused with privacy, security and humanity.
Cook made the comments yesterday at the opening ceremony for the conference — an event overseen by the Cyberspace Administration of China and designed to globally promote China's vision of a more censored and controlled Internet.
"The theme of this conference — developing a digital economy for openness and shared benefits — is a vision we at Apple share," Cook said. "We are proud to have worked alongside many of our partners in China to help build a community that will join a common future in cyberspace."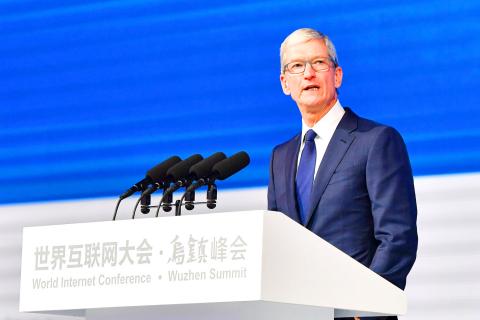 Apple chief executive Tim Cook yesterday speaks at the opening ceremony of the 4th World Internet Conference in Wuzhen, China.
Photo: AFP
Cook and Google chief executive Sundar Pichai are both making their first trips to the event. The attendance of leaders from two of the world's most valuable tech giants lends credibility to China's efforts to influence the global Internet so it better resembles its own.
"Much has been said of the potential downsides of AI, but I don't worry about machines thinking like humans. I worry about people thinking like machines," Cook said. "We all have to work to infuse technology with humanity, with our values."
Technology of the future should have openness, creativity and safeguards to protect users while providing privacy and decency, he added.
It is a goal that, according to Cook's Chinese hosts, can only be accomplished through more laws and regulations that control what can be shared online.
Chinese Communist Party politburo member Wang Huning (王滬寧), director of the party's Central Policy Research Office, called for a global emergency response team that would respond in times of crisis using new and undetermined measures.
"What we propose is we should promote a controllable security and build a new order," Wang said through a translator, reading from a note by Chinese President Xi Jinping (習近平). "Cybersecurity is a serious challenge. Cybercrimes and cyberterrorism has grown more rampant. The world's destiny has become more intertwined in cyberspace."
"The development of China's cyberspace is entering a fast lane... China's doors will only become more and more open," Wang said.
Pichai did not give a keynote speech, but only took part in a panel discussion on the digital economy.
Additional reporting by Reuters
Comments will be moderated. Keep comments relevant to the article. Remarks containing abusive and obscene language, personal attacks of any kind or promotion will be removed and the user banned. Final decision will be at the discretion of the Taipei Times.