Car mechanic ends 35-year charity run after donating more than NT$6 million
As he approaches his 60th birthday on Dec. 31, philanthropist Wu Ching-ho (吳清和) nears the end of his 35-year-pledge to donate one-third of his monthly salary to help poor people and fund the education of disadvantaged children.
Wu made the pledge on Dec. 1, 1982, when he was promoted to factory chief at an automaker.
Born into a farming family, Wu said he moved to the city at the age of 20 to work as an apprentice mechanic.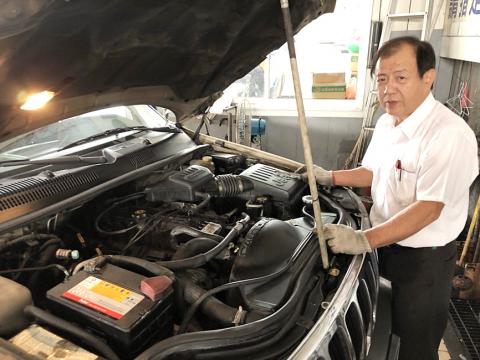 Philanthropist and car mechanic Wu Ching-ho works on a car in Tainan on Thursday.
Photo: Hung Jui-chin, Taipei Times
Many people helped him along the way, Wu said, adding that it was the sense of gratitude for other people's help that prompted him to make the pledge as a way of giving back to society.
Wu has donated more than NT$6 million (US$199,933) to date.
He did not stop giving away money, whether his monthly salary was NT$25,000, when he first began, or NT$60,000, Wu said.
Asked to tell the most memorable incident from more than 30 years of donating, Wu talked about the reconstruction of Christian Mountain Children's Home (基督教山地育幼院) — an orphanage in Kaohsiung's Liouguei District (六龜) — that lacked the funds it needed.
Wu said he donated not only his money, but also his time and energy into the reconstruction.
He said he felt an indescribable sense of peace when he saw that the children had a new home.
He also participated in rescue efforts in the aftermaths of the 921 Earthquake in 1999 and Typhoon Morakot in August 2009.
After the typhoon, Wu said he drove into the mountains each month for a year to carry supplies to the Tavaran community in Pingtung County's Sandimen Township (三地門), which had suffered serious damage.
Wu on Friday said he is happy that every donation he has made represents his commitment to his promise and his endless desire to help others.
He will end his monthly donations to alleviate some of the pressure on himself, Wu said.
However, he said he would continue to care about disadvantaged people and that his desire to help others will never change.
Those who have benefited from Wu's philanthropy range from associations to individuals referred to him by his friends, Wu said.
He said that on some occasions he reached out to people in need whom he learned about from news reports.
He also helped children of poor families finish high school, Wu said.
Wu said he did not keep track of the number of students he helped.
These things are not important as long as [I] have actually been able to help," he added.
Comments will be moderated. Keep comments relevant to the article. Remarks containing abusive and obscene language, personal attacks of any kind or promotion will be removed and the user banned. Final decision will be at the discretion of the Taipei Times.