Bangladesh agrees to send Rohingya refugees home
Rohingya refugees who return to Myanmar from Bangladesh following a repatriation agreement would initially live in temporary shelters or camps, Dhaka said yesterday, a day after the UN raised concern for their safety when they go back.
The UN has said more than 620,000 Rohingya have fled to Bangladesh since August and live in squalor in the world's largest refugee camp after a military crackdown in Myanmar that the UN and Washington have said clearly constitutes "ethnic cleansing."
Bangladesh and Myanmar signed a repatriation agreement on Thursday, which would pave the way for the return of the refugees at the "earliest" opportunity, according to the deal, which Dhaka released yesterday.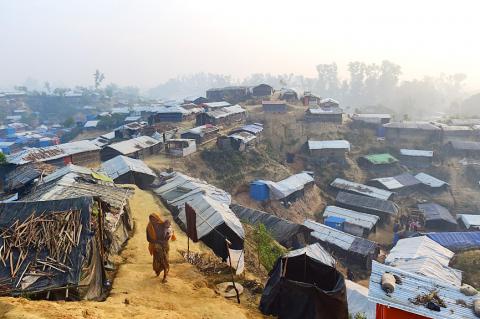 A Rohingya woman holding her child walks in Balukhali refugee camp in Bangladesh's Ukhia District on Thursday.
Photo: AFP
"Primarily they will be kept at temporary shelters or arrangements for a limited time," Bangladeshi Minister of Foreign Affairs A.H. Mahmood Ali told reporters in the capital.
The comments come after the UN High Commissioner for Refugees (UNHCR) on Friday raised concerns over the agreement, saying that conditions to enable refugees to safely return to Myanmar's Rakhine State were not in place.
Under the deal, Naypyidaw would "encourage those who had left Myanmar to return voluntarily and safely to their own households" in Rakhine State or "to a safe and secure place nearest to it."
However, most of the Rohingya villages were burned during the violence and refugees would have no choice but to live in temporary shelters there, Ali said,.
"There are no houses. Where they will live? It is not possible to physically [return to their own homes]," he said.
Under the terms of the agreement, Myanmar is to ensure that temporary shelters are only a short-term option and that refugees' "freedom of movement in the Rakhine State will be allowed in conformity with the existing laws and regulations."
More than 100,000 Rohingya have been living in grim camps for internally displaced persons since violence erupted in Rakhine in 2012.
Rohingya activist Mohammad Zubair told reporters that "Rohingya people will never agree to voluntary repatriation if they are not taken back to their villages and their land returned to them."
Comments will be moderated. Keep comments relevant to the article. Remarks containing abusive and obscene language, personal attacks of any kind or promotion will be removed and the user banned. Final decision will be at the discretion of the Taipei Times.