Law firm said to be linked to Ching Fu
PITTANCE: Failing to secure a US export permit entitled the navy to terminate the contract or fine Ching Fu NT$35 million per day, but it instead only asked for NT$5,582
A law firm once chaired by Chinese Nationalist Party (KMT) Legislator John Wu (吳志揚) in 2015 persuaded the navy not to dissolve a contract with Ching Fu Shipbuilding Co after it failed to obtain an export permit from US authorities, potentially causing state-run banks to lose billions of New Taiwan dollars, Democratic Progressive Party Legislator Wang Ding-yu (王定宇) said yesterday.
Ching Fu, which was awarded a NT$35.8 billion (US$1.19 billion at the current exchange rate) contract to build six minesweepers as part of an indigenous shipbuilding project, failed to fulfill a contractual obligation to obtain a US technology export permit by Dec. 26, 2015.
The permit was needed for Ching Fu's subcontractor, defense manufacturer Lockheed Martin, to help the firm build minesweepers in Taiwan.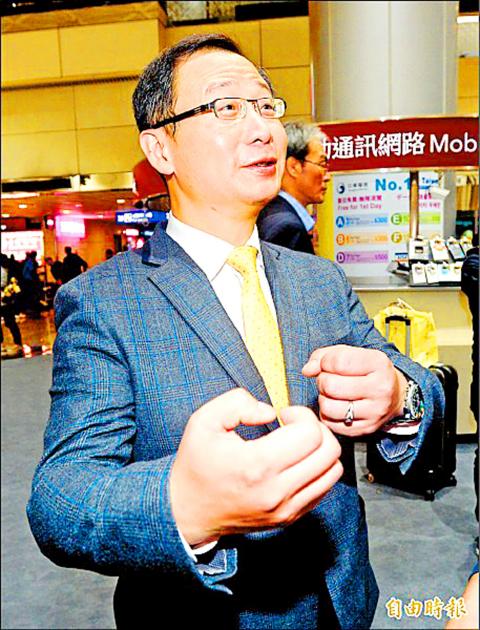 Chinese Nationalist Party (KMT) Legislator John Wu speaks to reporters in an undated photograph.
Photo: Lin Cheng-kung, Taipei Times
The failure could have prompted the navy to terminate the contract, confiscate the deposit or demand compensation, but it instead imposed a daily fine of NT$5,582, Wang said.
The fine, which was 0.000001 percent the cost of a single minesweeper, was proposed by Weisers Law Offices (眾勤德久法律事務所), which in 2009 was merged with a law firm founded by Wu, Wang said.
A military procurement law stipulates a daily fine of 0.001 percent of the total contract value for late delivery, which would have amounted to NT$34.93 million per day, Wang said.
"Ching Fu only paid NT$5,582 a day through the contract dissolution crisis, allowing the export permit acquisition deadline to extend indefinitely. It made [then-Executive Yuan secretary-general] Chien Tai-lang (簡太郎) able to negotiate a joint loan" from state-run banks that Ching Fu was seeking, Wang said.
Chien should be responsible for an additional loss of NT$12.67 billion from state-run banks that approved a syndicated loan to Ching Fu, which faced difficulty seeking funds, Wang said.
Before Chien called a negotiation on Dec. 29, 2015, only three banks — First Commercial Bank, the Agricultural Bank of Taiwan and the Export-Import Bank of the Republic of China — were willing to approve a loan of NT$7.82 billion.
However, following the negotiation, the loan ballooned to NT$20.05 billion from nine state-run banks, which could turn into bad debt if Ching Fu declares bankruptcy, Wang said.
Wang showed a classified document from the negotiation, which suggested that the parties had agreed to relieve Ching Fu from a requirement that it obtain the US export permit as a prerequisite for loan eligibility.
During the negotiation, Chien downplayed the firm's financial instability and attributed its previous failure in securing loans to difficulties in obtaining US export permits, Wang said.
Wu issued a statement denying any involvement in Weisers.
Immediately after he was sworn in as Taoyuan County commissioner at the end of 2009, he withdrew from the firm he founded, the statement said, adding that the firm's new director later went on to found Weisers Law Offices.
Comments will be moderated. Keep comments relevant to the article. Remarks containing abusive and obscene language, personal attacks of any kind or promotion will be removed and the user banned. Final decision will be at the discretion of the Taipei Times.