FAT bosses sue over 'party girl' accusations
Far Eastern Air Transport Corp (FAT, 遠東航空) executives yesterday launched a defamation suit against an airline workers' union in an ongoing row over complaints by flight attendants of a sexist attitude and unfair working requirements for female employees.
FAT chief operating officer Tseng Chin-chih (曾金池), accompanied by his lawyer, filed the lawsuit at the Taipei District Prosecutors' Office yesterday afternoon, accusing Taoyuan Flight Attendants' Union (TFAU) chairman Chao Kang (趙剛) and secretary-general Lin chia-wei (林佳瑋) of circulating false information and deliberately distorting his statements.
Tseng's move was a reaction to a TFAU news conference yesterday morning, in which union officials accused FAT executives of gender discrimination and the objectification of women when dealing with complaints by flight attendants, following the dismissal of several union members last month.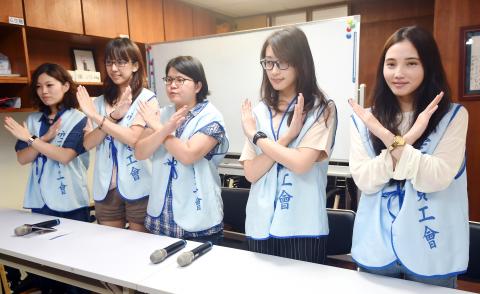 From left, Taoyuan Flight Attendants' Union officials Lee Ying and Chang Hsin-fang, union secretary-general Lin Chia-wei and two former Far Eastern Air Transport (FAT) staff members make a "no" gesture during a news conference in Taipei yesterday, in which they accused FAT executives of objectifying female members of staff.
Photo: Liao Chen-huei, Taipei Times
The dispute got more heated this week when FAT chairman Chang Kang-wei (張綱維), at a news conference on Monday, said the company organizes public events with many local governments, government agencies and professional baseball clubs, and that there was nothing wrong in getting company employees, including flight attendants, involved as it helps promote the airline and generate more business.
Chang denied allegations by TFAU members that some flight attendants had been asked to work as "party girls," dancing and serving alcohol at events attended by local politicians.
The function in question was a party for all company employees after a road-running event and the flight attendants who served food and drink were paid NT$2,000, Chang said.
He criticized the "few flight attendants" who aired the complaints and said that the TFAU represents only a very small percentage of FAT staff.
"We are in the service sector, it is very natural for flight attendants to provide customer service," FAT-affiliated union official Chuang Liu-pao (莊留寶) said on Monday. "You have a pretty face, a degree and you also have a nice figure. If you are not happy here, go work elsewhere."
"FAT management is full of such talk of the objectification of women. They do not respect that flight attendants have been trained professionally... The public do not buy airline tickets just because the attendants are pretty," TFAU official Lee Ying (李瀅) said yesterday.
Lee urged airline companies not to objectify female flight attendants, which gives the wrong impression to the public.
In response, Tseng said neither he nor any company executive had said it was natural to ask flight attendants to work as "party girls" and serve alcoholic drinks.
The TFAU had purposely distorted statements and made false accusations, he said, and therefore it was necessary to file the defamation lawsuit.
FAT also released a statement that quoted a male FAT employee who had also worked at the road-running after-party and had served food and drinks.
"Should that be considered the objectification of a man?" the statement said.
Comments will be moderated. Keep comments relevant to the article. Remarks containing abusive and obscene language, personal attacks of any kind or promotion will be removed and the user banned. Final decision will be at the discretion of the Taipei Times.