Trump upbeat on trade and N Korea after China talks
US President Donald Trump yesterday criticized the "very one-sided and unfair" trade relationship between the US and China, but stopped short of castigating Chinese President Xi Jinping (習近平) by saying he does not blame Beijing for having taken advantage of the US.
Speaking after the announcement of new business deals between US and Chinese companies, Trump said China "must immediately address the unfair trade practices that drive" what he said is a "shockingly" large trade deficit, along with barriers to market access, forced technology transfers and intellectual property theft.
"But I don't blame China," Trump said. "After all, who can blame a country for being able to take advantage of another country for the benefit of its citizens?"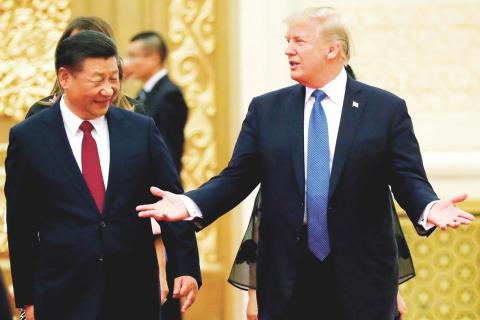 US President Donald Trump, right, and Chinese President Xi Jinping arrive for a state dinner at the Great Hall of the People in Beijing, China, yesterday.
Photo: Reuters
To applause, Trump said: "I give China great credit."
Trump's comments came on his second day in China and after lengthy meetings with Xi.
The day included announcements that the US and China had signed agreements valued at more than US$250 billion for products including US-made jet engines, auto parts, liquefied natural gas and beef.
Such contract signings are a fixture of foreign leader visits to Beijing and are intended to defuse foreign complaints about China's trade policies.
Many of the contracts signed appeared to represent purchases that Chinese mobile phone makers, airlines and other customers would have made anyway, but were saved to be announced during Trump's visit.
The deals are "a way of distracting from the fact that there's been no progress in China on structural reform, market access or the big issues that the president has tried to make progress on with regard to China," Council on Foreign Relations Asia studies director Elizabeth Economy said.
Trump had made narrowing the multibillion-dollar US trade deficit with China a priority for his administration.
During last year's presidential campaign, he accused China of "raping our country" on trade and pledged to minimize the nations' trade imbalance.
For his part, Xi promised a more open business environment for foreign companies in China and said his nation was committed to further opening its economy to foreign investment.
"China will not close its doors" and will open them "even wider," Xi said, pledging that foreign companies in China would find the market "more open, more transparent and more orderly."
Xi also described US-China relations as standing at a "new historic starting point."
"The Pacific Ocean is big enough to accommodate both China and the United States," he said.
Before arriving in China, Trump had delivered a stern message to Beijing, using an address to the National Assembly in South Korea to call on China to do more to confront and isolate North Korea.
"You cannot support, you cannot supply, you cannot accept," Trump said.
Trump yesterday appeared far more conciliatory, thanking China for its efforts.
"China can fix this problem easily. And quickly. And I am calling on China and your great president to hopefully work on it very hard," Trump said. "If he works on it hard it will happen. There's no doubt about it."
Comments will be moderated. Keep comments relevant to the article. Remarks containing abusive and obscene language, personal attacks of any kind or promotion will be removed and the user banned. Final decision will be at the discretion of the Taipei Times.