Jumping children, soldiers greet Trump in Beijing
China pulled out all the stops for US President Donald Trump's arrival in Beijing yesterday afternoon: honor guard, marching band, jumping children.
The ceremony accompanying Trump's arrival at Beijing Capital International Airport was elaborate, even by China's lavish standards.
Heads of state are usually given a low-key reception at the airport, with the real pomp and circumstance reserved for their arrival at the Great Hall of the People.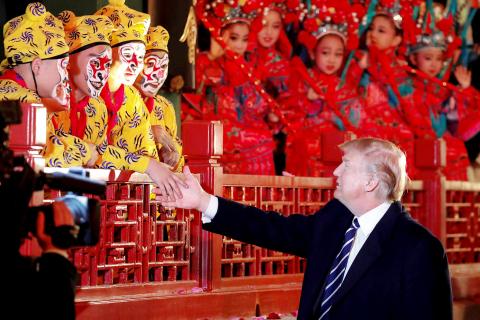 US President Donald Trump yesterday shakes hands with Chinese opera performers at the Forbidden City in Beijing yesterday.
Photo: Reuters
As he exited Air Force One, Trump and his wife, Melania, were met by Chinese and US dignitaries, soldiers standing stiffly at attention, a band playing martial music and children waving miniature Chinese and US flags while chanting "Welcome, welcome."
As Trump's motorcade pulled away, the tempo increased, with children jumping up and down while they waved and chanted.
Trump is expected to push China on trade and North Korea during a two-day visit, which White House aides view to be the centerpiece of his Asia tour.
Before arriving in Beijing, Trump used an address to the South Korean National Assembly in Seoul to deliver a stern message to China, North Korea's biggest trade partner.
"You cannot support, you cannot supply, you cannot accept," he said, calling on "every nation, including China and Russia," to fully implement UN Security Council resolutions on North Korea.
Trump is expected to demand that China curtail its dealings with Pyongyang and expel North Korean workers.
The White House is banking on Trump's personal rapport with Chinese President Xi Jinping (習近平) to drive the negotiations.
"People say we have the best relationship of any president-president, because he's called president also. Now some people might call him the king of China, but he's called president," Trump told the Fox Business Network.
The Trumps also sipped tea with Xi and his wife, Peng Liyuan (彭麗媛), and received a private tour of the Forbidden City.
"The Chinese have figured out how to play Trump: flatter him. And there's nothing the Chinese do better than wow foreign diplomats," said Mike Chinoy, an expert on East Asia policy at the US-China Institute at the University of Southern California.
"Trump has mortgaged the whole US-China relationship to get the Chinese on board with the North Korea plan," Chinoy said. "He is now coming at it from a position of weakness."
White House officials have said that if Trump were to chide Xi about human rights or democratic reforms he would likely do it privately.
Comments will be moderated. Keep comments relevant to the article. Remarks containing abusive and obscene language, personal attacks of any kind or promotion will be removed and the user banned. Final decision will be at the discretion of the Taipei Times.