Electricity to stabilize by 2019: premier
NO COMPROMISES: Lai said nuclear-free efforts would not sacrifice electricity stability or air quality, as only 1GW of coal power would be added versus 89GW of natural gas
The nation's power supply is expected to be stable from 2019 as natural gas, coal and renewable power sources are installed, Premier William Lai (賴清德) said yesterday.
Natural gas generators being installed at Datan Power Plant (大潭電廠) in Taoyuan and Tunghsiao Power Plant (通霄電廠) in Miaoli County would help restore the power reserve margin to 15.2 percent and the operating reserve margin to 10.2 percent by 2019, levels that would ensure a stable power supply, Lai said.
The reserve margin measures the expected maximum available power supply above expected peak demand, while the operating reserve margin covers the additional amount of power that can be drawn from operating power plants beyond peak demand on a particular day.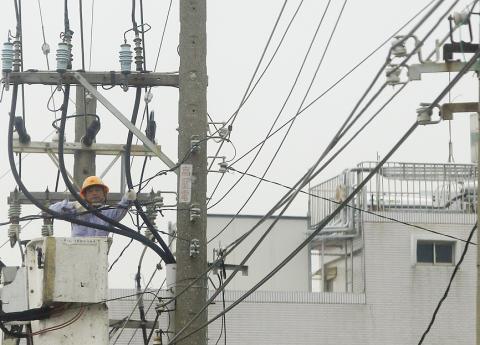 A Taiwan Power Co employee checks a high-voltage transmission tower yesterday.
Photo: CNA
President Tsai Ing-wen's (蔡英文) policy to phase out nuclear energy by 2025 has led to concerns whether the nation can eliminate nuclear power while cutting carbon emissions and maintaining power supply stability.
The operating reserve margin fell below 2 percent in early August due to the loss of power from a coal-fired plant after one of its transmission towers collapsed during a typhoon, since three of the nation's six nuclear power reactors were already shut down as part of a longer-term plan to phase out nuclear power
On Aug. 15, operating reserves fell to less than 5 percent of available capacity and a major power outage occurred when the Datan plant's six natural gas-fired generators temporarily shut down because of human error.
Lai said that the goal to make Taiwan nuclear-free would be achieved by 2025 without compromising the stability of the electricity supply and improved air quality.
He did not comment on carbon emissions.
He said that 8.896 gigawatts (GW) of natural gas-fired generating capacity would be added by 2025, while only an additional 1GW of coal-fired power, which can be particularly harmful to air quality, would be added by then.
The government is also speeding up renewable energy projects, with 3GW of solar generation capacity expected to be in place by 2020, five years ahead of schedule, he said.
Asked whether there were any circumstances under which he would consider restarting the shut down nuclear reactors, Lai said: "There is no plan to restart nuclear power generators."
He repeated the answer in response to a follow-up question, but after a third question, he said such a measure would be used as a "last resort," without elaborating, including when pressed by reporters after the news conference.
The news conference was part of Lai's week-long campaign to address the "five shortages," referring to the nation's supply of water, electricity, land, labor and talent that are seen as obstacles to providing a better investment environment.
This story has been updated since it was first published.
Comments will be moderated. Keep comments relevant to the article. Remarks containing abusive and obscene language, personal attacks of any kind or promotion will be removed and the user banned. Final decision will be at the discretion of the Taipei Times.