Xi unveils new top politburo members, no clear successor
RENEWED MANDATE: Based on the CCP's norms for retirement, none of the five appointees would be suitable to succeed Xi as party leader in five years
The Chinese Communist Party (CCP) yesterday elevated five new officials to assist Chinese President Xi Jinping (習近平) as he embarks on a second five-year term as CCP secretary-general, and by stopping short of designating an obvious successor strengthened his position as the country's most powerful leader in decades.
As expected, Xi was given a renewed mandate following the first meeting yesterday of the new CCP Central Committee that was elected at the party's twice-a-decade national congress.
"We will mobilize the whole party and the whole country in a resolute push to deliver on our pledge and eradicate poverty in China," Xi said in comments to reporters at a brief ceremony at the Great Hall of the People.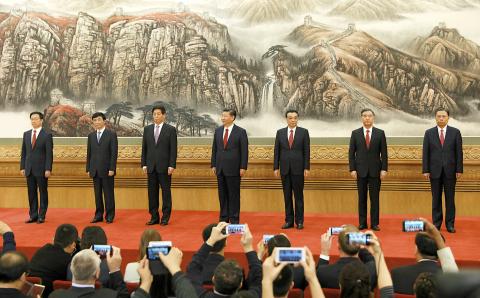 From left, the members of the Chinese Communist Party's Politiburo Standing Committee Han Zheng, Wang Huning, Li Zhanshu, CCP Secretary-General and Chinese President Xi Jinping, Chinese Premier Li Keqiang, Wang Yang and Zhao Leji are introduced at a news conference at the Great Hall of the People in Beijing yesterday.
Photo: EPA-EFE
Five members of the new seven-strong Politburo Standing Committee introduced by Xi were appointed yesterday. Going by the party's norms on retirement ages, none of them are deemed suitable to succeed the 64-year-old Xi as party leader after his second five-year term.
The absence of an obvious successor pointed to Xi's long term ambitions, said Joseph Fewsmith, an expert on Chinese politics at Boston University.
"It suggests that Xi will likely serve a third term, and that he is likely to name his own successor,'' Fewsmith said. "We have not seen that for two decades.''
In contrast, before Xi took power in 2012, he had been in the Standing Committee for five years.
Xi's predecessor, Hu Jintao (胡錦濤), had a seat in the body for 10 years before becoming CCP leader.
Under recent party precedent, party leaders have served just two five-year terms.
The party had already elevated Xi's status on Tuesday at its closing session by inserting his name and dogma into the party's constitution alongside past leaders Mao Zedong (毛澤東) and Deng Xiaoping (鄧小平).
"No one doubts Xi bestrides the landscape like a colossus. Organized or even unorganized resistance is inconceivable," said Jeremy Paltiel, a China expert at Canada's Carleton University.
The only other returning member to the apex ruling body was Chinese Premier Li Keqiang (李克強), the party's No. 2 official primarily responsible for overseeing the economy and leading the Cabinet.
Li's authority was widely viewed as having been undercut by Xi's accumulation of power across various sectors of government.
The makeup of the committee reflects Xi's efforts to foster party unity by striking a balance between different interest groups in the 89-million member organization.
The new members of the Politburo Standing Committee are, in order of seniority: Li Zhanshu (栗戰書), who serves as Xi's chief of staff; Vice Premier Wang Yang (汪洋); Wang Huning (王滬寧), director of the party's Central Policy Research Office; Zhao Leji (趙樂際), head of party organization responsible for job assignments; and Shanghai CCP leader Han Zheng (韓正).
Comments will be moderated. Keep comments relevant to the article. Remarks containing abusive and obscene language, personal attacks of any kind or promotion will be removed and the user banned. Final decision will be at the discretion of the Taipei Times.