Abe's LDP on track for major poll victory
CONSTITUTIONAL FOCUS: One exit poll predicted the LDP would win 311 seats in the lower house of parliament, keeping its two-thirds majority. Official results are due today
Japanese Prime Minister Shinzo Abe's ruling bloc was headed for a big win in yesterday's election, bolstering his chance of becoming the nation's longest-serving prime minister and potentially re-energizing his push to revise the nation's pacifist constitution.
Abe's Liberal Democratic Party-led (LDP) coalition was set to win 311 seats, keeping its two-thirds "super majority" in the 465-member lower house, an exit poll by TBS television showed.
Public broadcaster NHK also said the ruling bloc was closing in on a two-thirds majority, although some other broadcasters had the ruling bloc slightly below the two-thirds mark.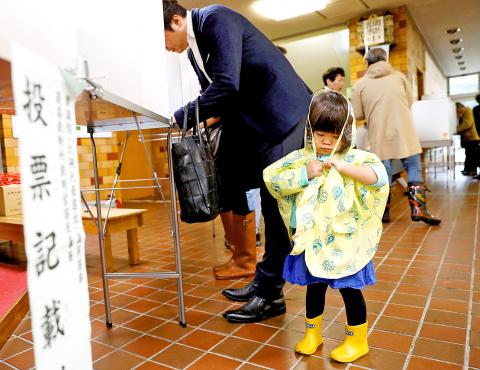 A girl stands next to her father yesterday as he fills out his ballot for Japan's national election at a polling station in Tokyo.
Photo: Reuters
A hefty win raises the likelihood that Abe, who took office in December 2012, will have a third three-year term as LDP leader in September next year and go on to become Japan's longest-serving prime minister. It also means his "Abenomics" growth strategy centered on the hyper-easy monetary policy would likely continue.
Final official results from the election, which coincided with an approaching typhoon, are expected early today.
"Now that pro-constitutional change parties occupy more than two-thirds of the parliament, the constitution will be the most important political issue next year," said Hidenori Suezawa, a financial market and fiscal analyst at SMBC Nikko Securities. "And as we saw in the UK … a referendum could be tricky. So while Abe is likely to be prime minister for the time being, it is too early to say whether he can stay in power until 2021."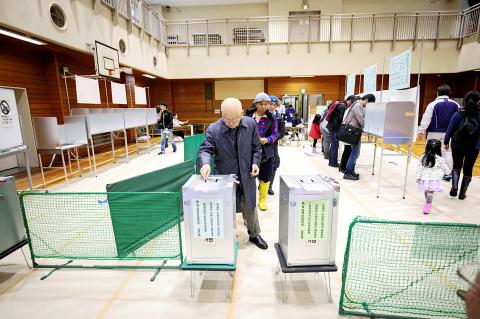 Voters stand in line to cast their ballots during Japan's general election yesterday at a polling station in Tokyo.
Photo: AFP
Abe had said he needed a new mandate to tackle a "national crisis" from North Korea's missile and nuclear threats and a fast-aging population, and to approve his idea of diverting revenue from a planned sales tax hike to education and childcare from public debt repayment.
He called the poll amid confusion in the opposition camp and an uptick in his ratings, dented earlier in the year by suspected cronyism scandals and a perception he had grown arrogant after nearly five years in office.
Several experts said the ruling bloc's win was less a victory for the long-ruling LDP than a defeat for a divided opposition.
Kyodo news agency estimated turnout yesterday, as heavy rain from Typhoon Lan lashed much of Japan, at 53.7 percent, one point above the record low in the last lower house election in 2014.
Comments will be moderated. Keep comments relevant to the article. Remarks containing abusive and obscene language, personal attacks of any kind or promotion will be removed and the user banned. Final decision will be at the discretion of the Taipei Times.