Landslide in Malaysia kills three; 11 trapped
A landslide at a construction site in northern Malaysia yesterday killed three foreign workers, with rescuers searching for 11 others feared trapped in the mud and rubble, officials said.
Fire and rescue official Mohamad Rizuan Ramli said a 10m high slope crashed down at the construction site in northern Penang State, a popular tourist destination, early yesterday.
He said the bodies of two Indonesians and an unidentified foreigner have been recovered.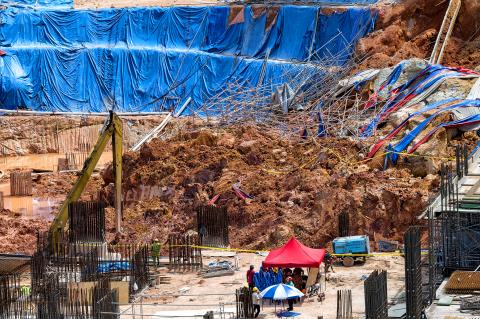 A construction site is demolished by a landslide in Tanjung Bungah, Malaysia, yesterday.
Photo: EPA
Rescuers are racing against time to excavate the rubble to get to another 11 foreign workers, believed to be from Indonesia, Myanmar and Bangladesh, who are feared buried alive, he said.
Bangladeshi worker Mohammad Jashim Hussein Ahmad told the national Bernama news agency that the landslide happened swiftly without warning and was over in just one minute, burying his friends, who had no time to run.
State Legislative Assemblyman for Tanjong Bunga Teh Yee Cheu told local media that he was told by a rescue worker that most of the victims were likely buried at least 3m to 5m under mud and rubble.
He said natural boulders from the hill had also come hurtling down during the landslide.
He said the victims included a Malaysian, who is the supervisor.
Penang City Mayor Maimunah Mohamad Sharif said weather on the island was dry and the cause of the landslide was not clear.
Comments will be moderated. Keep comments relevant to the article. Remarks containing abusive and obscene language, personal attacks of any kind or promotion will be removed and the user banned. Final decision will be at the discretion of the Taipei Times.