Duterte declares Marawi liberated as battle goes on
Philippine President Rodrigo Duterte yesterday declared Marawi liberated from Islamic State group militants, although the military said that 20 to 30 rebels were still holding about 20 hostages and fighting it out.
In a rousing address to soldiers a day after the killing of two commanders of the rebel alliance, Duterte said he would never again allow militants to stockpile so many weapons, but Marawi was now free and it was time to heal wounds and rebuild.
Duterte said that the liberation was not a cause for celebration and later apologized to the people of Marawi for the destruction.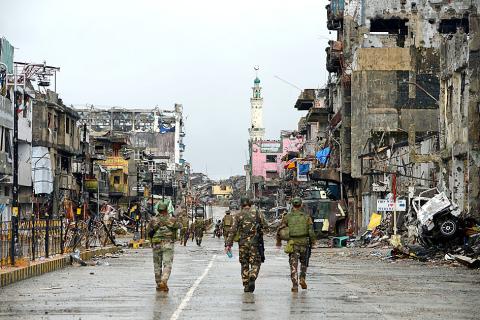 Philippine soldiers walk past destroyed buildings in Marawi yesterday after Philippine President Rodrigo Duterte declared the city liberated.
Photo: AFP
"We had to do it," he said. "There was no alternative."
Philippine armed forces chief Eduardo Ano said that the remaining gunmen were now a "law enforcement matter," while military spokesman Restituto Padilla said they were "stragglers."
"There is no way that they can get out anymore, there is no way for anyone to get in," Padilla told news channel ANC.
Padilla said the military believed Malaysian operative Mahmud Ahmad was in Marawi, but poses no threat.
"Dr Mahmud is an academic, he's not a fighter," Padilla said. "We don't feel he is a problem."
However, some security experts believe that Mahmud, 39, a recruiter and fundraiser who trained at an al-Qaeda camp in Afghanistan, could become the Islamic State group's new point-man in Southeast Asia.
Another leader, Abdullah Maute, has yet to be accounted for. Intelligence indicated he died in an August airstrike, although no body was found.
Philippine Secretary of Defense Delfin Lorenzana, who estimated Marawi operations to have cost 5 billion pesos (US$97.4 million), said that reconstruction could start in January next year.
Comments will be moderated. Keep comments relevant to the article. Remarks containing abusive and obscene language, personal attacks of any kind or promotion will be removed and the user banned. Final decision will be at the discretion of the Taipei Times.